Prior to the November election, IEC released a "midterm" scorecard that was incomplete because we felt it was important to provide our members an educational reference going into the election. But after a very active veto session, we are excited to release our final 2016 Environmental Scorecard! View a copy of the 2016 Environmental Scorecard here.
The biggest development of veto session was the passage of the Future Energy Jobs bill. If you've been following IEC's work over the past three years, then you are likely familiar with the Clean Jobs bill, which sought to increase the share of renewable energy and reduce our energy usage through energy efficiency in Illinois. Well, after more than two years of organizing, advocating and negotiating, these policies make up the lion's share of the Future Energy Jobs bill, which is now law in Illinois.
During a special session concluding the 99th General Assembly, the Lead in Drinking Water Prevention Act finally received a full vote of the state legislature and passed in both chambers. Requiring lead testing in schools and child care centers is a remarkable achievement for the Illinois legislature that places Illinois at the forefront of the country in protecting children's health.
Congratulations to all our 100% Environmental Champions!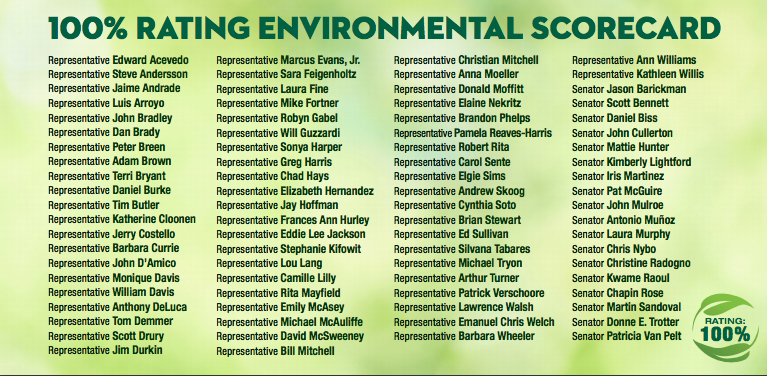 The 2016 Environmental Scorecard includes 11 individual legislative measures:
SB550: Lead in Drinking Water Prevention Act
Sponsors: Sen. Heather A. Steans and Rep. Sonya M. Harper
SB550 would require primary schools to test drinking water sources used by children for lead.
SB550 passed the Senate by a vote of 48-5-0 and has moved to the House.
SB2920: Environmental Justice Commission
Sponsors: Sen. Toi W. Hutchinson and Rep. Silvana Tabares
SB2920 adds members to the Environmental Justice Commission, including new affected community members and labor.
SB2920 passed the Senate by a vote of 55-0-0 and passed the House by a vote of 98-15-0.
HB6027: SNAP Farmers Market Benefits
Sponsors: Rep. Mike Tryon and Sen. Don Harmon
HB6027 would increase benefits available to those that use SNAP (Supplemental Nutrition Assistance Program) funds at farmers markets.
SB3130: Illinois Seed Law Exemption
Sponsors: Sen. Wm. Sam McCann and Rep. Tim Butler
SB3130 exempts seed libraries from industrial seed laws, protecting the exchange by gardeners and promoting this practice.
SB3130 passed the Senate by a vote of 43-5-2 and the house by a vote 111-0-0.
HJR141: Alligator Gar Protection
Sponsors: Rep. Michael J. Zalewski and Sen. Wm. Sam McCann
HJR141 seeks to protect and reintroduce alligator gar, a prehistoric native Illinois species. Recent research has shown that these animals are capable of eating adult Asian carp.
HJR141 passed the House by a vote of 114-0-0 and the Senate by a vote of 57-0-0.
HB6182: Monarch License Plates
Sponsors: Sen. Melinda Bush and Rep. Elizabeth Hernandez
HB6182 creates a decal on the universal license plate to fund the creation of monarch butterfly habitat by planting milkweed.
HB6182 passed the House by a vote of 113-0-0 and the Senate by a vote of 50-0-0.
HB5530: Food Donation
Sponsors: Rep. Ann Williams and Sen. Patricia Van Pelt
HB5530 prohibits food service contracts that restrict public agencies and schools from donating unused food.
HB5530 passed the House by a vote of 112-0-0 and the Senate by a vote of 55-0-0.
HB5933: Local Food, Farms, and Jobs Council
Sponsors: Sen. Daniel Biss and Rep. Robyn Gabel
HB5933 restructures the members of the local food, farms, and jobs council.
HB5933 passed the House by a vote of 101-2-0 and the Senate by a vote of 49-0-0.
HB5898: Food Cooperatives
Sponsors: Rep. Anna Moeller and Sen. Iris Martinez
HB5898 restructures the cooperative act to support new cooperative businesses.
HB5898 passed the House by a vote 113-2-0 and the Senate by a vote of 50-0-0.
SB2814: Future Energy Jobs Bill
Sponsors: Sens. Chapin Rose, Christine Radogno, Donne E. Trotter, Neil Anderson, Dave Syverson and Reps. Robert Rita, Lawrence Walsh, Bill Mitchell, William Davis and Ed Sullivan
SB2814 Provides that the Illinois Power Agency Renewable Energy Resources Fund shall purchase renewable energy credits and create an Illinois Solar for All Program with incentives for low-income distributed generation, community solar projects, and solar job training programs. Requires the procurement of zero emission credits from zero emission facilities for the utilities' retail customers.
SB2814 passed the House by a vote of 63-38-0 and the Senate by a vote of 32-18-0.
SB3289: Treecutting on Conservation Lands
Sponsors: Sen. Steve Stadelman, Rep. Robert Rita, and Rep. Laura Fine
SB3289 amends the Illinois Wrongful Tree Cutting Act so that owners of protected areas may be compensated for natural resource damages caused by illegal logging on their lands.
SB3289 passed the Senate by a vote of 44-5-0 and has moved to the House.
But because Springfield is complex and committee votes, co-sponsorships, and on the ground work to kill or support a bill matter just as much, we present this scorecard as just one tool in the toolbox of services we offer to environmentalists in the state. Be sure to sign up for, or continue to follow, our newsletter to receive regular updates on state environmental issues.
IEC has been producing this scorecard for forty years and it remains a vital tool to measure how a legislator voted on environmental issues. You can view nearly 40 years of past scorecards here.
The Illinois Environmental Council (IEC) is a non-partisan 41 year-old organization that promotes sound environmental laws and policies, provides a forum for environmentalists and facilitates a statewide activist network. IEC performs legislative advocacy and serves as the environmental community's eyes, ears and voice in Springfield.