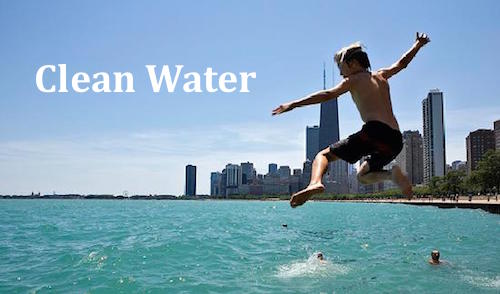 Illinois has abundant water resources: there are over 119,000 miles of streams within Illinois' borders; 900 miles of large rivers form our western, eastern, and southern borders; there are more than 91,000 freshwater lakes and ponds in Illinois; and, Illinois has jurisdiction over more than 1,500 square miles of open water in Lake Michigan. With such an abundance of resources it is easy to take our clean water for granted, making it all the more important that we remember the availability and quality of our water resources is of great importance at the state, regional, and national levels. Water does not respect political boundaries — our watersheds overlap with watersheds in other regions, and our groundwater and surface waters are interdependent with the waters of other states.
Unfortunately, surface and groundwater resources in Illinois are being impaired or degraded. Many Illinois rivers, streams, and lakes are contaminated with E. coli bacteria; contain fish that have been exposed to mercury and PCBs; exhibit low oxygen levels; and contain excessive phosphorus, manganese, siltation, suspended solids, and algae, all of which negatively impact aquatic life. Furthermore, much of our groundwater is contaminated with pesticides, halogenated solvents, petroleum, nitrate, fluoride, salt, metals, radio-nuclides, bacteria, protozoa, and viruses.

O
ur existing clean water laws should be fully implemented and enforced, providing adequate public access to decision-making processes. Several changes to Illinois laws, policy and regulations regarding water resources are required to increase the ability of affected citizens to enforce the law, to ensure that regulatory agencies have robust and aggressive inspection and enforcement programs and policies with meaningful consequences for illegal polluters, and to increase public access and availability of pollution and permitting data.
Read more for goals related to nutrient pollution, water pollution from extraction, water infrastructure and planning, and our Great Lakes: