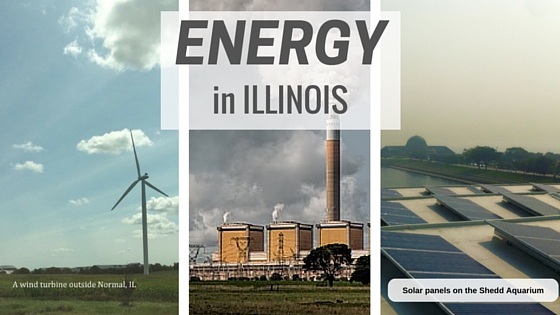 Illinois has a unique electricity generation mix: 49% of the electricity generated comes from our 6 nuclear plants, 43% from coal-fired power plants, 3% from natural gas plants, and the remainder from renewable resources. Illinois is served by two electrical grids, one of which spans the northern portion of the state, and a second grid that serves much of the Midcontinent region. Because Illinois generates much more than it consumes, the state is an exporter of electricity. Illinois is also a key energy hub for the nation, with over a dozen interstate natural gas pipelines, two natural gas market centers, several petroleum and petroleum product pipelines, and an oil port.
Illinois ranks first nationally for generating nuclear power; fifth for installed wind generation; fourth in crude oil refining capacity; and is a leader in recoverable coal reserves and ethanol production. Illinois is one of the top 10 natural gas-consuming states in the nation, with 4/5 of the homes using natural gas for heating. Illinois currently has few producing natural gas wells and minimal production.  Fracking is legal in Illinois, but this technology is not widespread in the state due to comprehensive fracking laws and low natural gas and oil prices.

Unfortunately, Illinois does not use energy resources very efficiently: Illinois households use 44% more than the U.S. average. By instituting more
energy efficiency
programs and relying more on renewables, we can optimize our use of these valuable resources. We've already seen benefits from pursuing these policies: our state-level Energy Efficiency Resource Standards (EERS) resulted in energy savings very quickly–in 2012, we met 131% of our annual electricity savings targets and 96% of our total target savings. In addition, our existing Renewable Portfolio Standard (RPS) mandates that 25% of our electricity come from renewables by 2025.
What's more, at least 100,000 Illinois workers are employed in clean energy jobs (wind turbines and solar panels, biofuels, electric vehicles, and energy efficiency) and we have more clean energy jobs than the state's real estate and accounting sectors combined. Energy efficiency accounted for almost 66% of these jobs, while renewable energy accounted for 20%. But we can and should continually strive to do better by maximizing investment in energy efficiency and keeping the energy efficiency goals for industrial users strong; regaining our position as one of the top three states in the country for wind production; becoming a top solar-producing state; and incentivizing research into and development of renewable energy technologies.
Additionally, we must begin to take steps now to reduce our carbon pollution in order to comply with the U.S. Environmental Protection Agency's Clean Power Plan (the Plan's compliance period plays out over a ten-year horizon and begins in 2020). By creating a strong and just state implementation plan, Illinois stands to cut climate change-causing carbon pollution and reduce emissions from coal plants that are responsible for numerous premature deaths and heart attacks in Illinois every year–in 2010, Illinois ranked 7th in the nation and Chicago ranked 3rd among metropolitan areas in these health related issues.
Current Laws and Our Vision for the Future
I
llinois' energy future will be shaped by the decisions we make today in regards to energy efficiency, renewable energy, fossil fuels, and transportation. Will we decide to invest in the economic, job-creating and clean choices of energy efficiency and power generated by the wind and sun? Or will we continue to spend on out-of-date and
dirty sources of energy?
Illinois should take major steps to reduce its carbon pollution, including ensuring there are enforceable laws and measurable results.
Contact your legislators in support of the
Illinois Clean Jobs Bill.
The faith community of Illinois is working hard to prioritize provisions in this legislation for
economically disadvantaged
communities. Join IEC's affiliate,
Faith in Place
, in helping the faith community speak out in favor of the IL Clean Jobs Bill.
Learn how to
make your own home and/or office more efficient.
Find out more about
Fermilab
and the research it conducts in the field of power transmission (among other exciting things).
A multidisciplinary teams of scientists and engineers at
Argonne
are working to advance the basic energy sciences, focusing research and development on a broad portfolio of sustainable and clean energy technologies.