These tours have always been an important piece of IEC's conservation work, and as our other programs have grown we've added waste and energy tours because of the success we've seen grow from these experiences. By bringing elected officials up close and personal with the sustainable agriculture and conservation projects in their districts, we hope to grow their personal and political investments in protecting Illinois' environment.
Kankakee County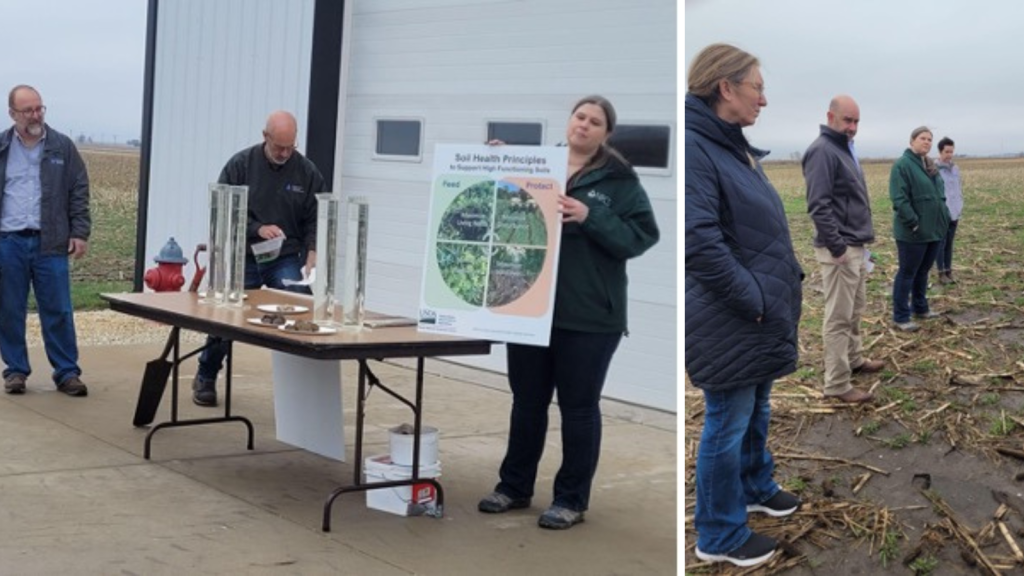 Rural Affairs Director Chad Wallace partnered with Kankakee County Soil and Water Conservation District to host staff from the offices of Representative Jackie Haas, Senator Elgie Sims, and Congresswoman Robin Kelly, as well as local electeds from the county board. We traveled to three farms to show off cover crops and no-till farming practices, prairie strips along Gar Creek and Terraces along the Iroquois River that serve to contain floodwater and preserve soil health.
Nachusa Grasslands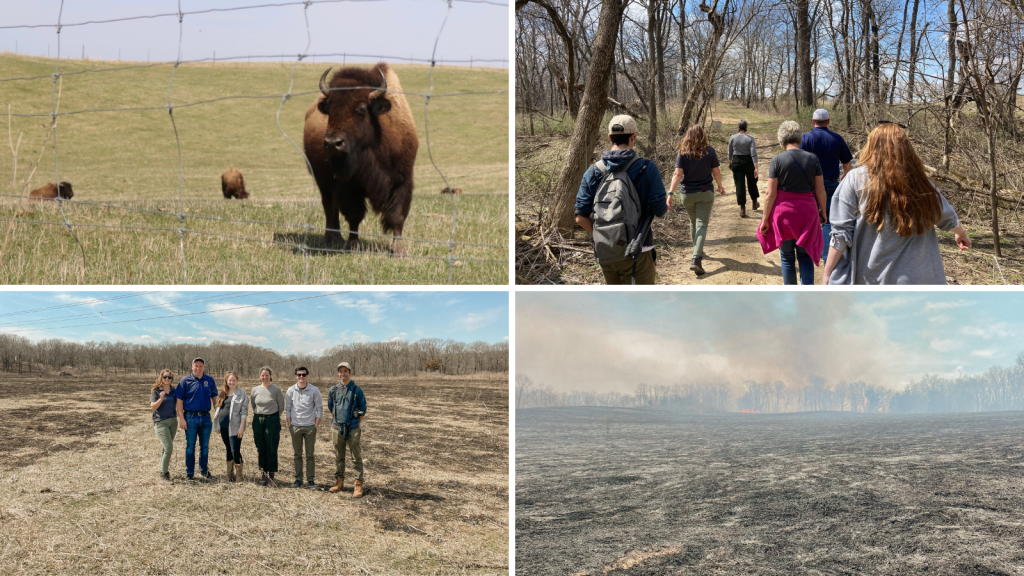 In April, we took freshman legislator Representative Bradley Fritts out to Nachusa Grasslands, a Nature Conservancy property that boasts a bison herd and restored native habitats, including prairie and wetlands. Representative Fritts and the other tour guests learned all about prescribed burning and the benefits of stewardship practiced in conservation areas.
Smart Wetlands at Feather Prairie Farm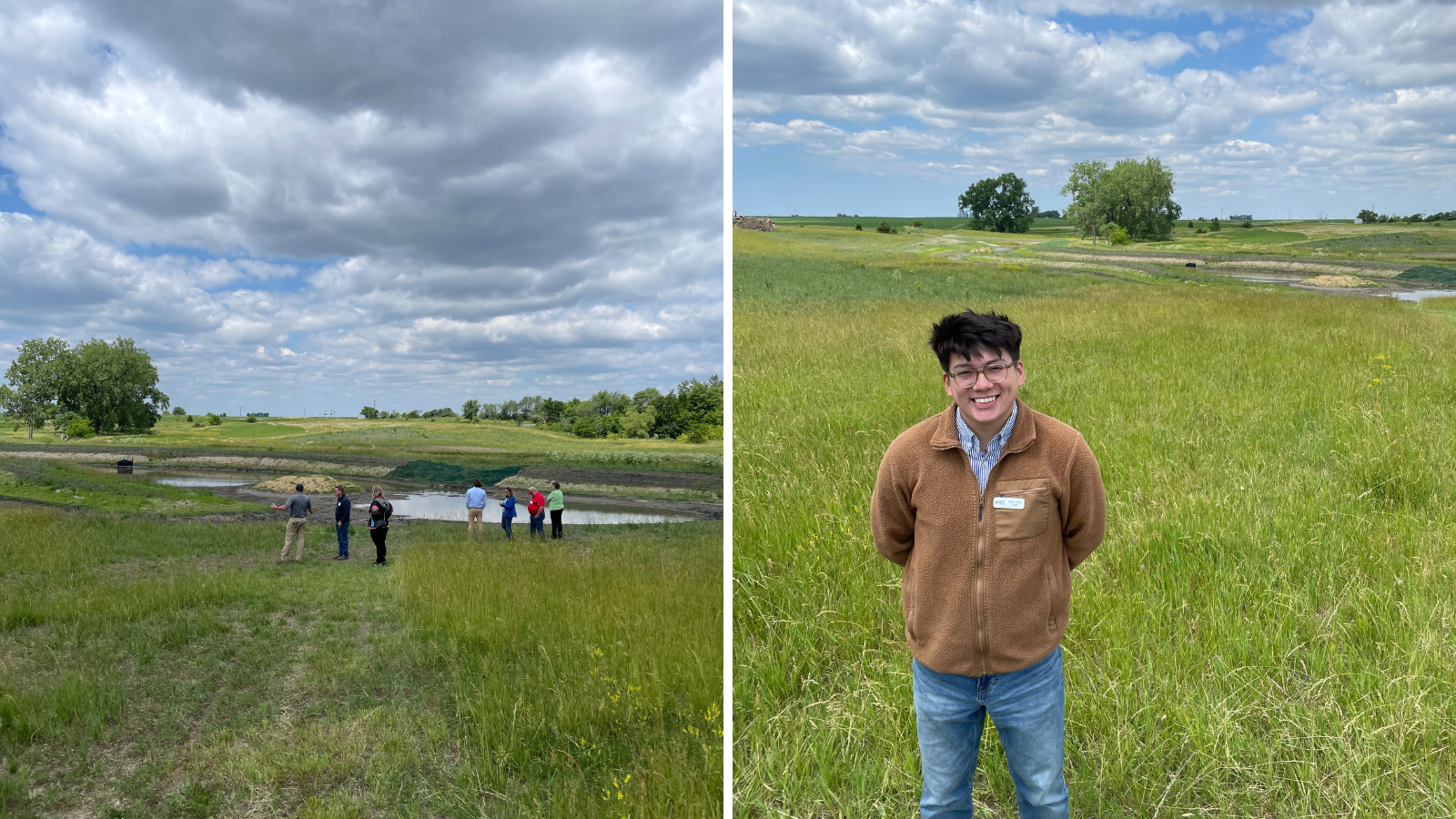 We joined legislators Senator Tom Bennett, Representative Jason Bunting, Representative Sonya Harper, and Senator Dave Koehler and representatives of The Wetlands Initiative and NCEL (Natl. Caucus for Environmental Legislators) for an amazing tour of the smart wetlands at Feather Prairie Farm, owned by Wesley and Andie Lehman. These smart wetlands are constructed on the farm property to reduce nutrient runoff that contributes to the deadzone in the Gulf of Mexico. Through chemical and biological processes, the wetlands filter runoff and provide a unique ecosystem for a wide range of flora and fauna, as well as birds and other animals. This was an amazing example of nature-based solutions in action!
Old Capitol Farmers Market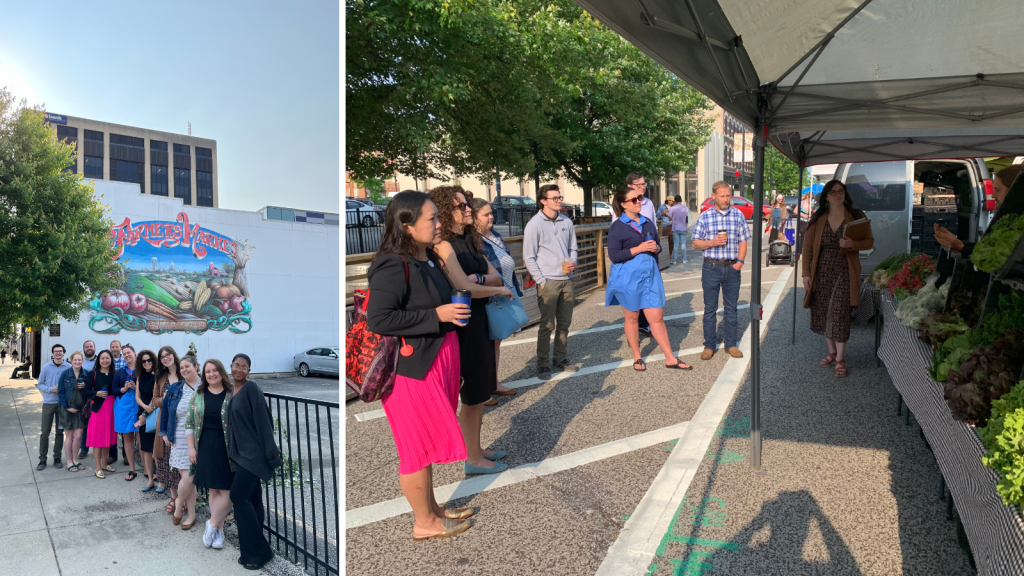 IEC hosted 13 legislators – Representatives Hirschauer, Ness, Mussman, Yang Rohr, Faver Dias, Severin, Canty, Cassidy, Costa Howard, Ladisch Douglass, Moeller, Burke, and Senator Fine – at the Old Capitol Farmers Market in downtown Springfield in the waning days of the legislative session. We discussed upcoming legislative opportunities to expand funding for local food infrastructure, SNAP benefits for markets, the benefit of improved cottage food laws, and just showed off the fantastic local vendors engaging in environmentally sustainable operations.
Moon Walk at Little Red Schoolhouse in Willow Springs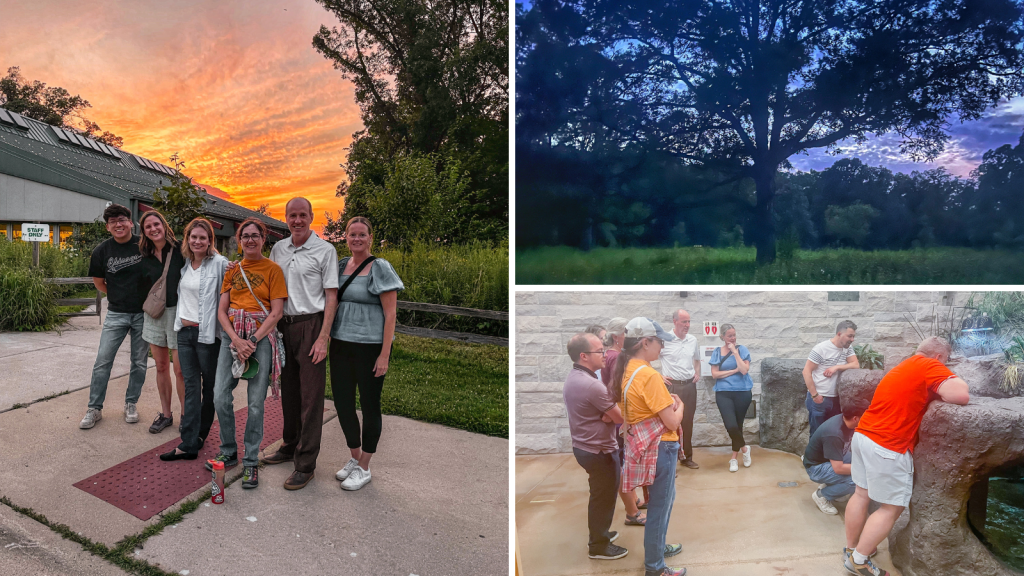 IEC Executive Director Jen, Government Affairs Director Lisa, and Chicagoland Conservation Manager Sergio toured part of the Palos Preserves of the Cook County Forest Preserve District. We discussed light pollution, invasive species, pesticide licensing, conservation funding, and equitable access to natural areas. The team was joined by Representatives Kelly Cassidy, Mary Gill, Senator Bill Cunningham, and Kevin Morrison (Cook County Commissioner).
Revis Hill Prairie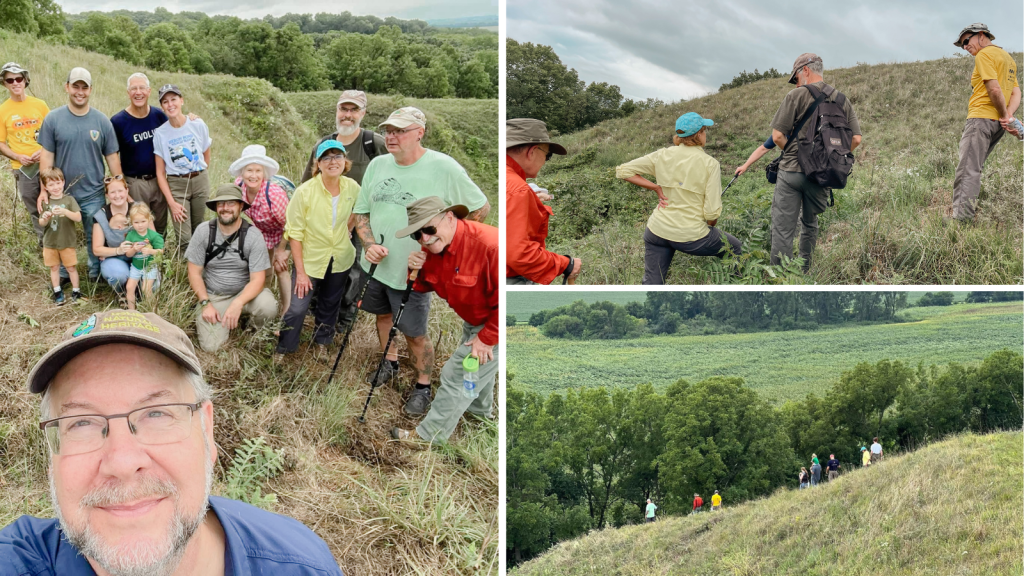 Conservation Director Lindsay Keeney attended a hike in celebration of the 50th anniversary of the Illinois Nature Preserves Commission at Revis Hill Prairie. Illinois Department of Natural Resources staff, as well as members of local land trusts and past IEC board members, were in attendance. We hiked through the rare remnant hill prairie and took in the sights while discussing conservation needs and goals of the site.
Adams Wildlife Sanctuary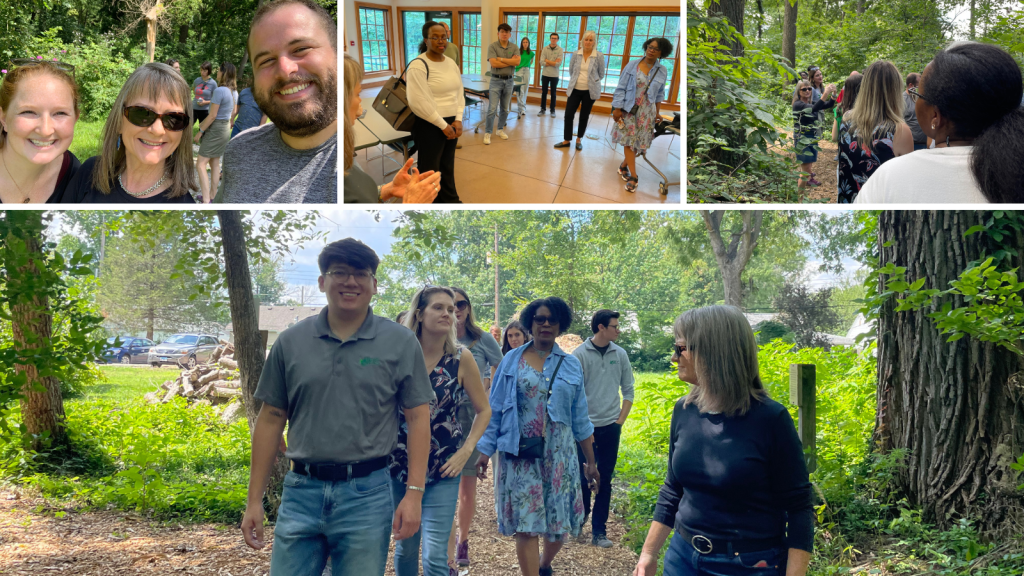 Representatives Lindsey LaPointe and Mike Kelly, Senators Adriane Johnson and Mary Edly-Allen joined IEC and Illinois Audubon staff for a tour of Adams Wildlife Sanctuary. The tour focused on the importance of private land conservation, partnerships between landowners and the state, conservation funding and the value of urban open space and equitable access to nature. We hiked around the property while discussing emerging conservation issues, and Jo Fesset, Illinois Audubon Executive Director, identified birds for us viewable from the trail.
DuChick Ranch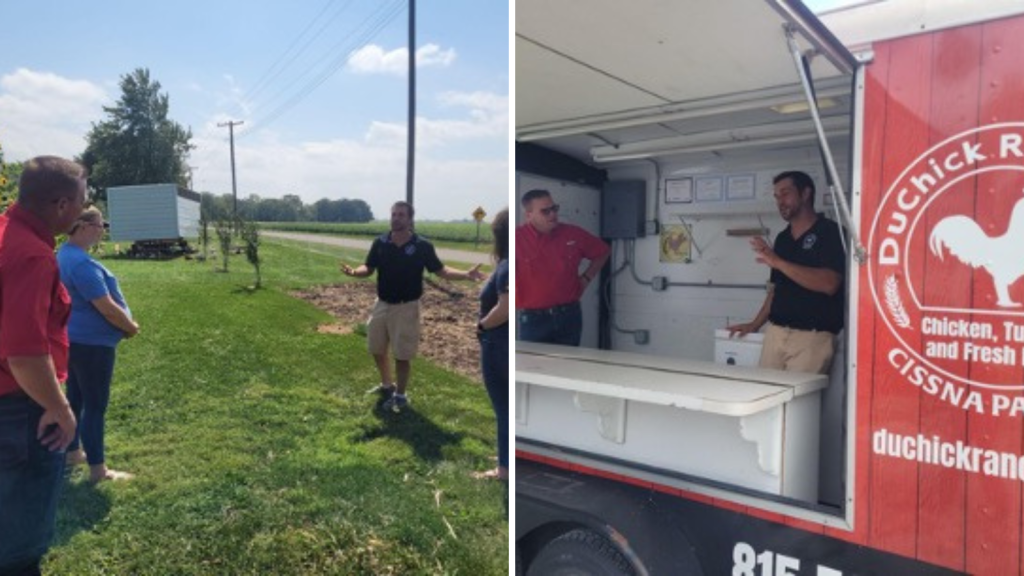 Ed Duchick led a tour of his farm located In Cissna Park hosting Representative Jason Bunting, Liz Ruple of Illinois Stewardship Alliance and IEC's Rural Affairs Director Chad Wallace. Ed has a small meat bird and vegetable operation on his farm. We discussed local food Infrastructure and the lack of processing options for local food businesses. 
At Duchick Ranch, poultry are raised without the use of antibiotics, hormones, steroids, or animal byproducts. The poultry are provided a nutrient-dense, vegetarian diet sourced from a feed mill less than half a mile away. Then raised on bedding that is redressed daily to keep them clean and healthy. Laying birds and turkeys are allowed to range on pasture paddocks during the day. Here they can graze the forage, eat bugs, scratch the dirt, rest, play, etc. 
AgGrowHoods in Jacksonville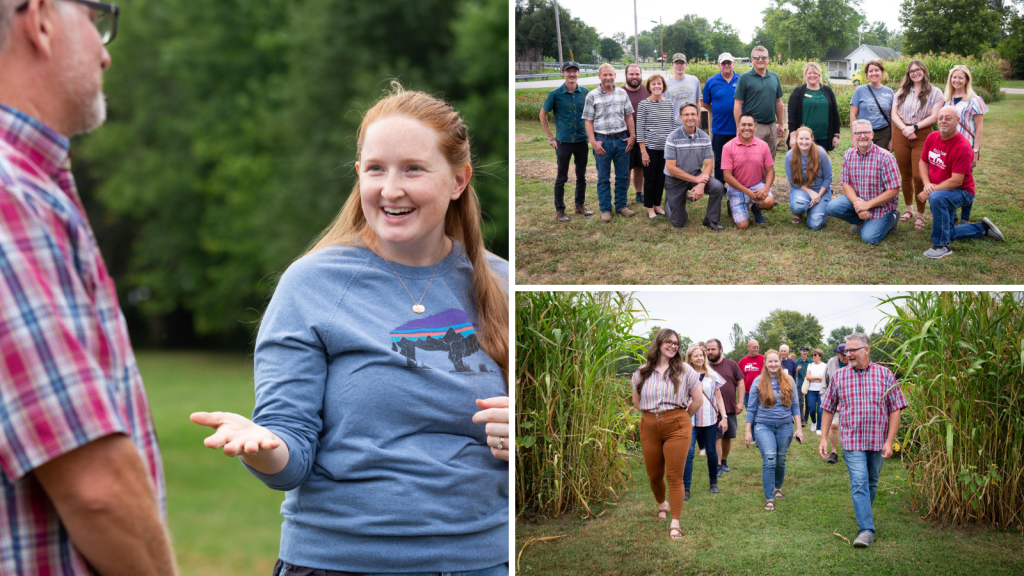 Michael Woods led a tour for partners, including IEC, Soil and Waste Conservation Districts, Illinois Department of Agriculture, Natural Resources Conservation Service, staff from Representative Wayne Rosenthal's office, and local County Board members. The project is a community farming initiative designed to foster healthier soil, water and neighborhoods by creating urban farms on Jacksonville's vacant lots. Jacksonville Park Foundation's MainStreet Farms agGROWhood Initiative will benefit from a $60,000 National Association of Conservation Districts Urban and Community Conservation grant awarded to Morgan County Soil and Water Conservation District. This is the first time the grant has been awarded in Illinois.
Rock River Paddling Tour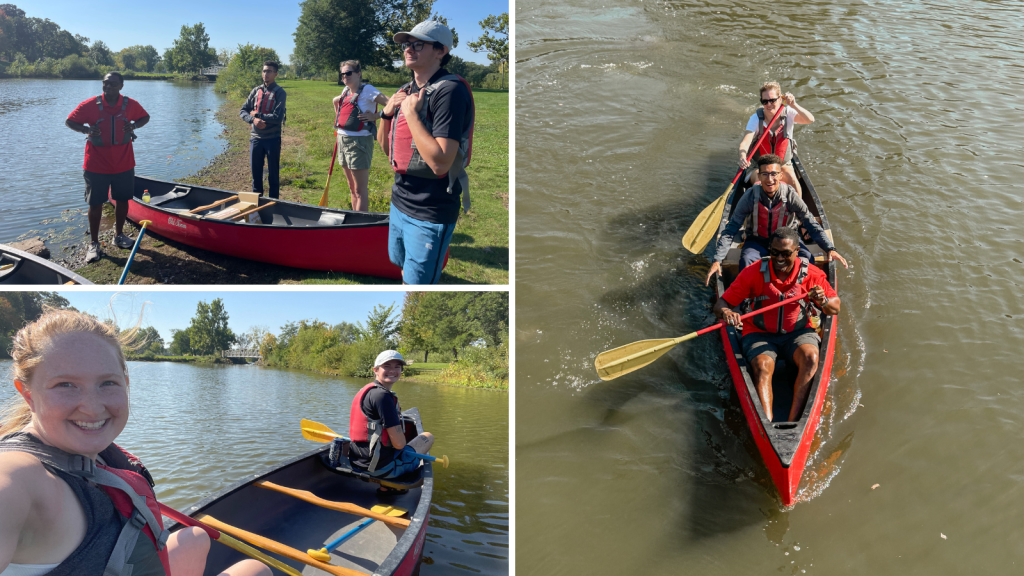 Conservation Director Lindsay Keeney, Government Affairs Assistant Blake Andonov, and Government Affairs Director Lisa Koerner took Representative Maurice West out on a paddling tour of the Rock River. We discussed conservation and agency funding issues, invasive species removal, community initiatives, river access, and conservation easements in indigenous communities. Rep West is a strong advocate for indigenous peoples and expressed interest in supporting any legislative initiative expanding conservation opportunities to include tribal communities.
Nature Preserves Month Celebration at Illinois Beach State Park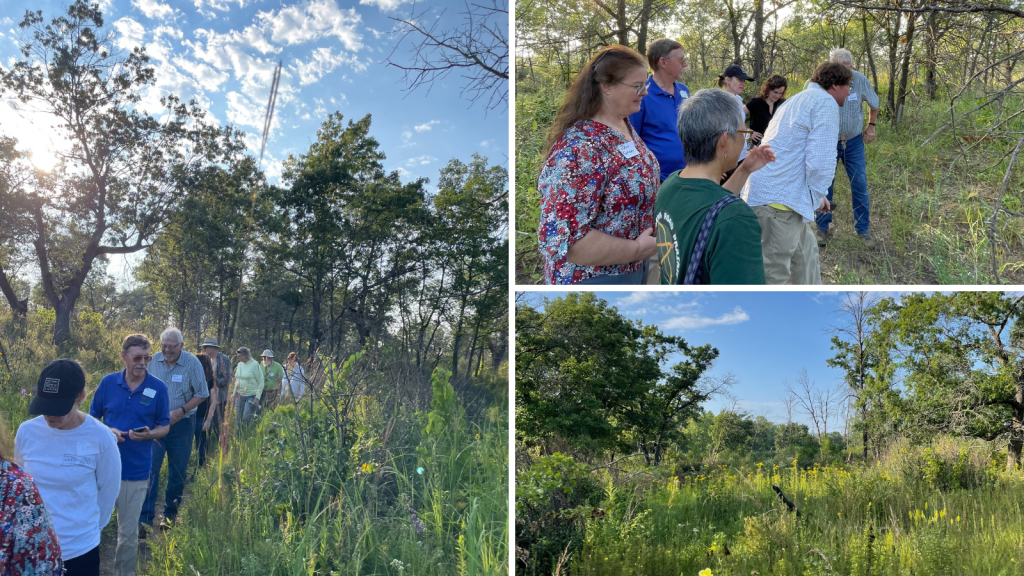 Chicagoland Conservation Manager Sergio Vargas enjoyed a special public meeting of the Illinois Nature Preserve Commission, where state officials will officially recognize August as Illinois Nature Preserve Month. On August 28, 1963, Illinois passed the Illinois Natural Areas Preservation Act establishing the Illinois Nature Preserves System. As part of their IL Nature Preserves Weekend, there were many ecological tours of the newly dedicated natural area of nearly 200 acres. Local stewardship is highly encouraged to ensure the care that this new area needs is met. Recognizing harmful invasive species is integral to proper removal strategies and allows for the biodiversity in the area to flourish.
Hazzard Free Farm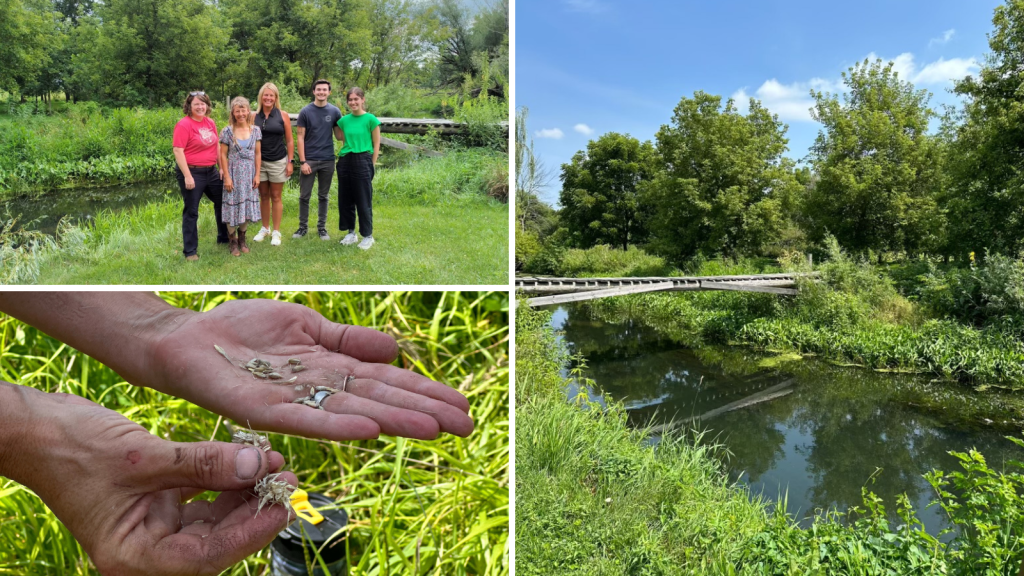 Government Affairs Assistant Blake Andonov and Conservation & Agriculture Intern Max Touchette teamed up with the Illinois Stewardship Alliance to showcase a woman-owned regenerative agriculture farm in Representative Tony McCombie's newly drawn district, Hazzard Free Farms in Winnebago County. After touring this beautiful property and seeing sustainable agriculture in action, the team and Rep. McCombie sat together under an old willow tree and talked about the importance of places like this and how to protect them.
Outdoor Caucus Kickoff at Friends of the Sangamon Valley HQ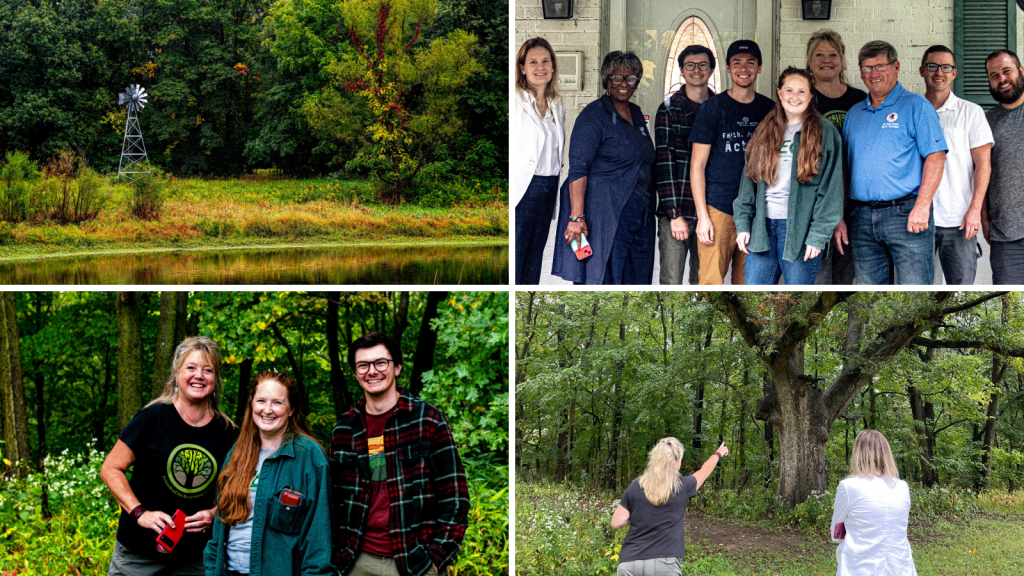 IEC's Government Affairs Assistant Blake Andonov, Conservation Director Lindsay Keeney, Land Use Programs Director Eliot Clay, Legal and Governmental Affairs Director Lisa Koerner, and Executive Director Jen Walling joined Angela Funk, Friends of the Sangamon Valley's new Executive Director in showcasing their newly acquired headquarters in Springfield to local legislators. Joining us on the tour of this beautiful conservation property, which features over 50 acres of pre-settlement oak woodlands, solar installations, trails through prairie, and the beautiful Sangamon River, were Senator Doris Turner, Representative Wayne Rosenthal, and Sangamon County Board Member Marc Ayers.
Jubilee Farm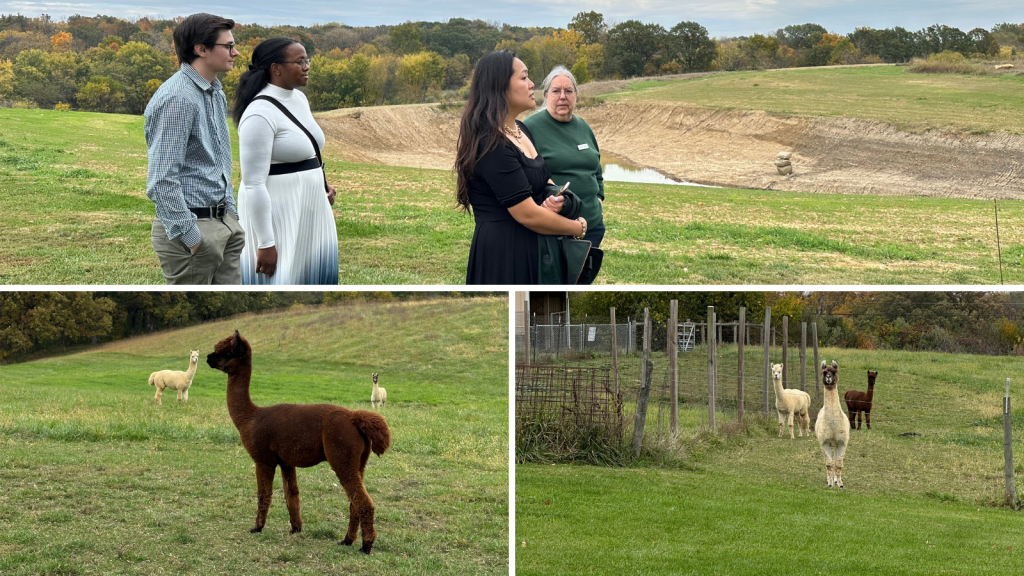 October 24th was the first day of Illinois' Veto Session! Legal & Governmental Affairs Manager Ariel Hampton, Government Affairs Assistant Blake Andonov, and Conservation & Agriculture Intern Maxine Touchette met up with Representatives Janet Yang Rohr and Suzanne Ness right before to talk about all things conservation and agriculture. Team IEC toured Jubilee Farm in Berlin, IL, while discussing permaculture and ecological restoration with their alpacas, chickens, and llama! The group came to some great conclusions regarding conservation practices, access to conservation funding, and ways private landowners can mitigate climate change by implementing sustainable land use. The stunning fall colors, good company, and fun animal friends made for the perfect out-of-office day.
Whole Earth Compost – Harbor View Facility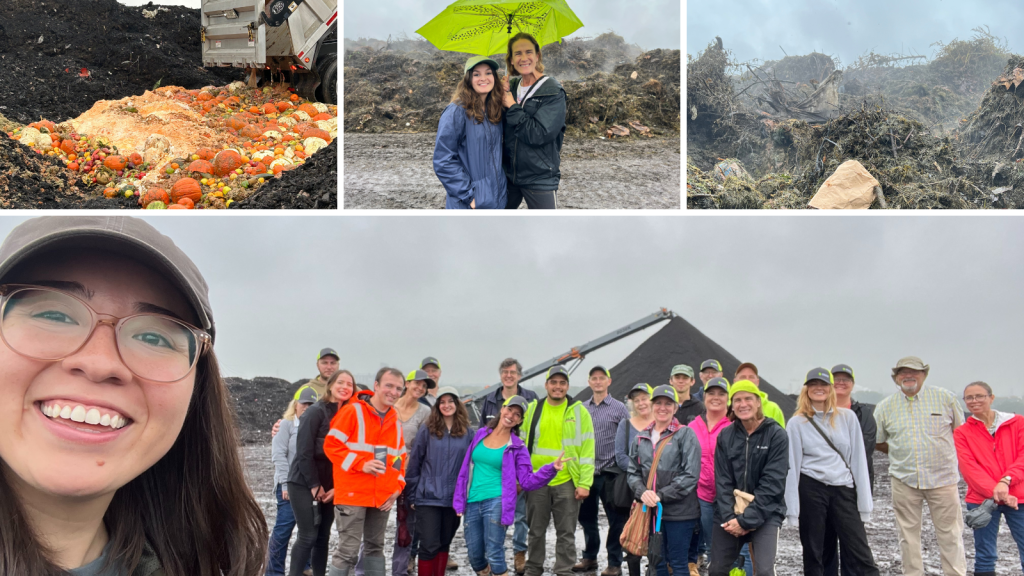 Zero Waste Policy Manager Liz Kunkle worked with Illinois Food Scrap & Composting Coalition to facilitate a tour of Whole Earth Compost – Harbor View Facility. Harbor View is Chicago's only actively-operated EPA-permitted composting facility, is one of the few permitted facilities in the state to accept food waste in addition to landscape waste, and is the processor for the City of Chicago's new citywide Food Scrap Drop-Off Program. City Department of Streets and Sanitation staff, waste agencies, and other compost companies were in attendance, and we all learned a bit more about the past, present, and future of organics diversion generally and the Whole Earth operations more specifically.
Bloomington-Normal Wind and Solar Training Facility Tour
IEC's Climate Policy Director Dany Robles, Legal & Governmental Affairs Manager Ariel Hampton, & and Energy Policy Director Samira Hanessian attended the unveiling of EDP's Bloomington-Normal solar and wind training facility where the new generation of renewable energy technicians will gain the knowledge to facilitate our clean energy future. This event was attended by a number of officials celebrating the clean energy win, including U.S. Senator Dick Durbin and Mboka Mwilambwe, Mayor of Bloomington.
Amazon Electric Vehicle Fleet Tour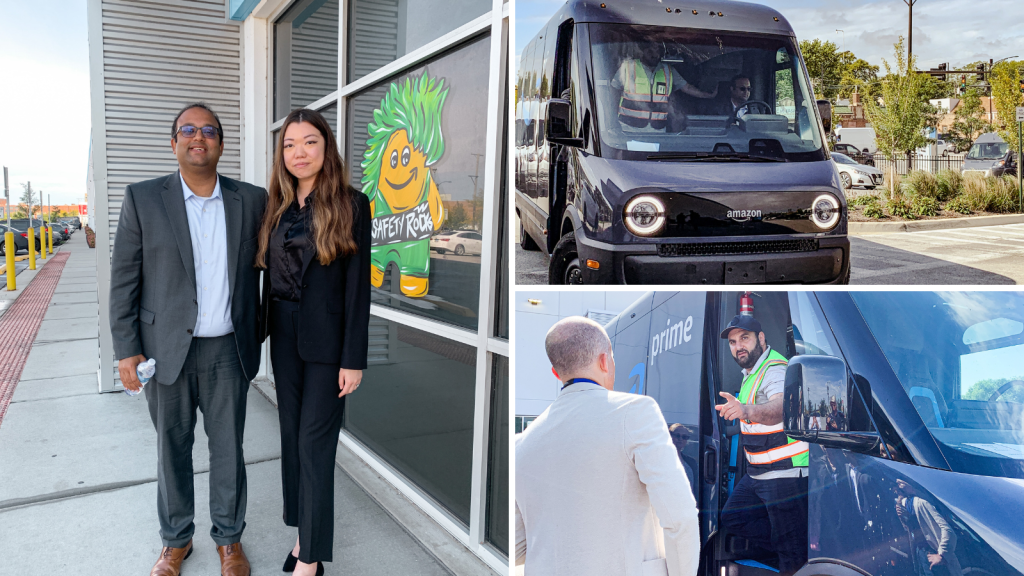 At IEC, we're working on legislation to electrify everything. Transitioning medium and heavy-duty trucks and vehicles to electric will go a long way toward reducing harmful transportation emissions, saving money, and protecting public health. Municipal Engagement Manager Angela Xu and Social Media Manager Sam Bower saw some electric delivery trucks–built by Rivian–with Advanced Energy United, Senator Ram Villivalam, Representative Theresa Mah, and Representative Eva-Dina Delgado, and then ended the day with a policy conversation.
Invenergy Wind Turbine Tour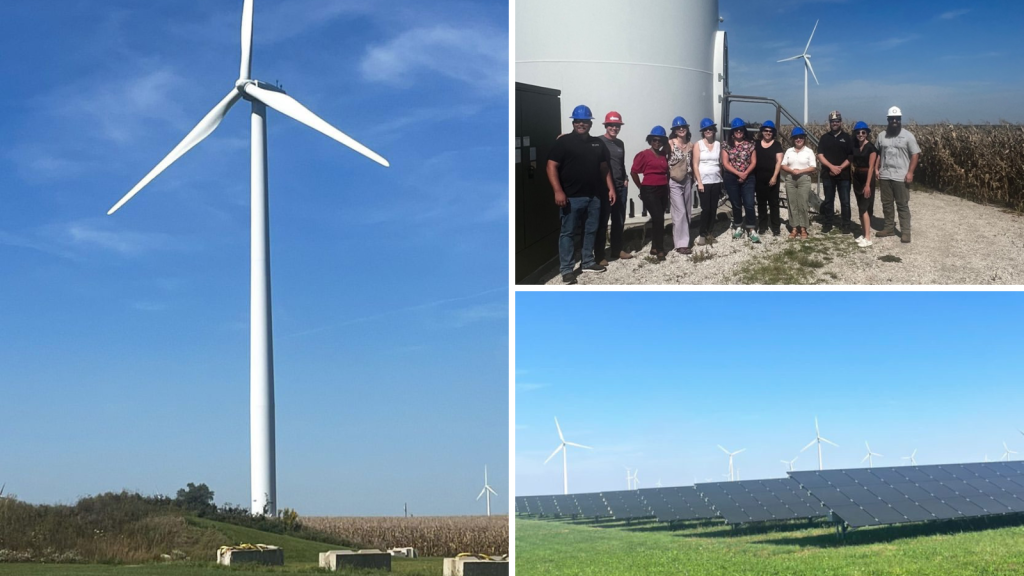 Executive Director Jen Walling and Government Affairs Director Lisa Koerner took a group of legislators: Representatives Anna Moeller, Joyce Mason, Laura Faver Dias, Harry Benton and Senator Adriane Johnson, down to Marseilles, IL to visit an Invenergy site that hosts all three types of Invenergy projects: wind, solar, and storage. The tour was led by former IEC Deputy Director Colleen Smith who talked about land usage and the conservation practices that are required on the ground surrounding solar panels. We also learned about the economics of renewable energy projects and about the benefits that leasing land has for families.
Coal Ash Ponds and Warehouse District in 3rd House District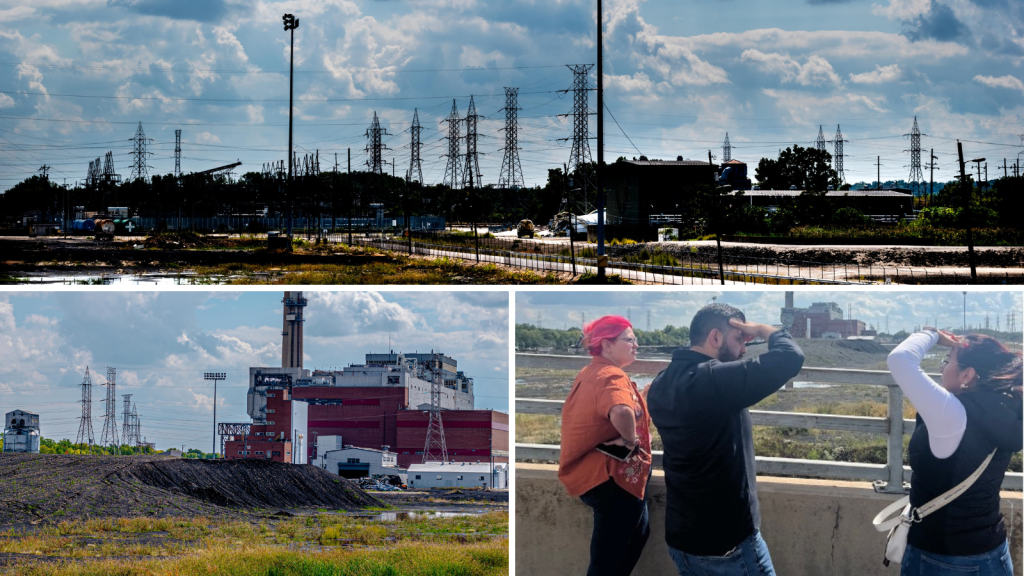 Executive Director Jen Walling and Legal and Governmental Affairs Director, Lisa Koerner toured Romeoville with Representative Dagmara Avelar and Marcos Ceniceros, Executive Director of Warehouse Workers for Justice. We discussed pollution sites in the area, including the oil refinery and coal ash ponds. We also saw the massive, sprawling warehouse area in the district, home to some of the largest factories in Illinois and the country.
Loyola Park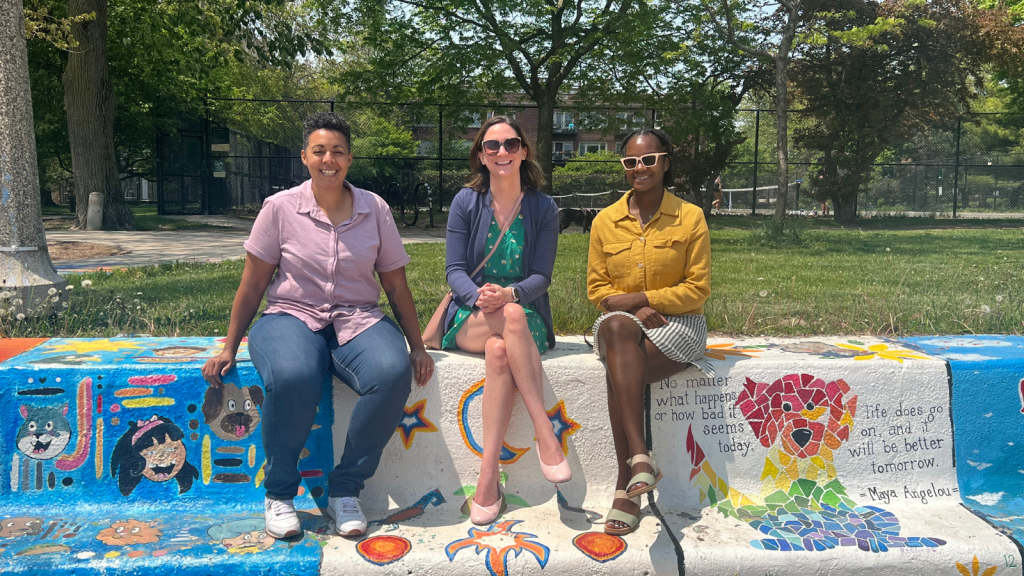 Executive Director Jen Walling and City Programs Director Iyana Simba took Chicago Alderperson Maria Hadden to Loyola Beach. The Alder is chair of the city council's environmental committee, and her ward has been severely impacted by shoreline erosion in the last few years. They discussed nature-based solutions, plastic reduction, and building electrification.