by: Lindsay Keeney, Conservation Director, and Liz Kunkle, Zero Waste Manager
Monarchs and Illinois
Illinois is known as the Prairie State, but those who work in conserving Illinois' native habitats know the grim truth that currently, less than .1% of Illinois' native prairie habitat still exists. IEC has been committed to protecting and promoting native ecosystems in Illinois for decades; more recently, we've incorporated the mission of the global 30 x 30 movement into our conservation work, and have met with Illinoisans across the state to talk about the conservation efforts and obstacles they face in their own communities.
In 1975, a pollinator with a migration pathway through Illinois, the monarch butterfly, was named Illinois' state insect, after the efforts of a Decatur elementary school class sparked the move in Illinois' General Assembly to pass a bill officially designating the iconic butterfly as such. Coincidentally, in the same year, the Illinois Environmental Council was founded with the mission of bringing an environmental legislative agenda to Springfield.
Although decades had passed in the state since the official declaration heralding the monarch as one of our state's icons, we continued to see the destruction of our state's native habitat. Illinois' environment looks very different now than it did centuries ago, and with the introduction of exotic and invasive species over time, combined with unsustainable land use and the development of large-scale farming, we've seen some native species suffer as a result, notably, pollinators who serve a critical role in maintaining ecosystems as a whole. In October 2023, Illinois' own state insect, the Monarch, was taken off the endangered species list after earning the designation the year prior. 
In 2016, IEC worked to pass a bill that gave Illinoisans an opportunity to support the monarch population while also celebrating the beauty of our state insect. This bill greenlit a Monarch license plate decal in Illinois, which would generate revenue to cultivate and develop pollinator habitat throughout the state. In 2023, after significant grassroots efforts and over 2,000 Illinoisans signing up to receive their own license plates, the Illinois Secretary of State's office finally unveiled the long-awaited Monarch license plate decal! This has been an environmental effort years in the works, so join us in looking back at all the work that got us to where we are now. 
Behind the Bill
This work has been a long labor of love for Illinois' conservation community and environmental advocates. The story begins years before the November 2023 announcement, even before the passing of House Bill 6182 in 2016 authorizing the monarch license plate decal. The year before, 2015, the Illinois legislature and the Rauner administration overhauled the Illinois specialty plate system by authorizing a new decal-based system that would limit the number of specialized plates on Illinois roads. Illinois has over 100 specialty plates supporting various causes. Drivers pay extra for the plates, and part of the proceeds support their chosen cause. Going forward, the plan was for the new plates to be a universal design allowing each cause to designate a decal to be applied to the plate, thus funds directed toward the cause.
Senator Melinda Bush, Representative Elizabeth Hernandez, and our environmental supporters knew this could be a huge Illinois conservation opportunity. They honed in on the Monarch butterfly as an iconic and important pollinator to represent the needs of the Prairie State. Increasing monarch habitat does more than just serve the monarch, this initiative has the potential to restore prairies, improve soil health, increase pollinators and decrease our reliance upon a broken food system, increase climate resilience, and most simply, beautify our state.
We began work to pass HB6182 in the spring of 2016 and passed the bill that summer. This bill created the Roadside Monarch Habitat Fund as a special fund in the State treasury and authorized the Illinois Department of Natural Resources to issue the monarch decals. The Roadside Monarch Habitat Fund will be used for monarch and other pollinator habitat development, enhancement, and restoration projects throughout the state.
After passing the bill, the next hurdle in getting the monarch license plate decals up and running was to get 2000 people to pledge to purchase the decal upon production. Per the SOS guidelines, "The Secretary of State's Office will begin production of a new specialty decal category after receiving 2,000 requests for the decal. A non-refundable specialty license decals fee must accompany each plate request. The fee will be deposited into the special fund as designated by statute, regardless of whether or not the decals are produced." IEC worked with partners including NRDC, Illinois Sierra Club, Environmental Law and Policy Center, the Nature Conservancy, and Illinois Audubon to get the word out and encourage potential decal buyers to pledge their support and send $10 in to the secretary of state.
Illinois enviros heard the call, and in 2018, we met the 2,000-person threshold. We then began the process's next phase, decal design. During and throughout this work, the state went through several administration changes at the executive and agency levels, and at the same time, the world navigated a pandemic. License plate decals were not exactly the most pressing work for agency staff or advocates as we pivoted towards ensuring access to open space for those that needed it most, responding to federal rollbacks to protect our water, open space, and critical conservation laws, and helping our state navigate shortages and economic issues rooted in the COVID-19 Pandemic. 
During this same timeframe, the monarch's plight was recognized as more and more imperiled. In 2017, Illinois named milkweed as its state wildflower, and the Midwest Association of Fish and Wildlife Agencies set a goal of adding 1.3 billion milkweed stems across critical monarch habitat by 2038. In 2019 May was designated as "Monarch Month" in Illinois. In 2020, the US Fish and Wildlife Service considered the butterfly for an endangered species listing and acknowledged that the species deserves protection.
Then, on July 21, 2022, the International Union for Conservation of Nature (IUCN) declared that migratory monarchs are "officially endangered" and on its red list. The IUCN wrote: "The western population is at greatest risk of extinction, having declined by an estimated 99.9%… The larger eastern population also shrunk by 84% from 1996 to 2014."  The IUCN listing doesn't change the US species status but does lend urgency to the need to increase support for monarch butterflies, which we believe this Illinois effort achieves. We are thrilled to see this work cross the finish line and see it as a promising return to normalcy after the tumultuous last few years. We are encouraged by the state's commitment to its environmental advocates and heartened that though environmental policy wins may take a long time to come to fruition, with our community's support and advocacy, we continue to see great progress and see our priorities reach completion.
The Path to 2,000 Pledges
Prior to joining IEC as Zero Waste Manager, Liz Kunkle was already an active environmentalist in her community, working with Go Green Illinois' chapter in Winnetka. Before finding her way to our team, Liz found some of the environmental efforts already underway in Illinois. Specifically, she heard about the opportunity to sign up for a Monarch License Plate and support native habitat in the state at the same time. Here's Liz's perspective from the other side as one of the 2,000 Illinoisans eagerly awaiting their decals:
"I remember hearing about this back in 2017 and 2018 from lots of environmental sources that I trust – NRDC, IEC, our Chicagoland network of Go Green, and other environmental citizens' groups – all were sharing this opportunity. It seemed like an easy and inexpensive way to help spread awareness and hopefully make a difference. Even if Monarchs weren't the state insect, beautiful, important, or endangered, why wouldn't I do this?! And I thought it would be cool to be one of the first 2,000 people to want it enough to ask to make it happen. So I submitted a form. And waited. And waited. And waited some more.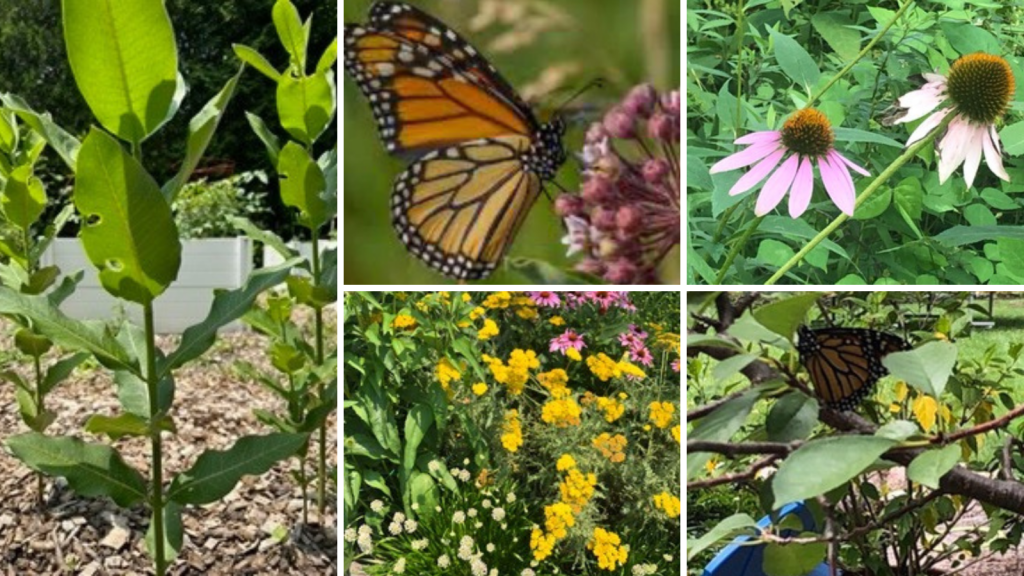 "But I didn't just wait. We planted milkweed at home, rewilded part of our yard, and have enjoyed pollinators returning in force. My Go Green Winnetka group hosts annual summer sustainable yard tours and fall native plant sales to spread awareness– and plants! I asked our Village Council to commit to planting pollinator-friendly habitat, sign onto the NWF's Mayors' Monarch Pledge, and include those commitments in our long-term Comprehensive Plan. 
"So I was excited to learn that the Monarch Butterfly License Plate will happen and will be the first Universal Specialty Plate issued by the State of Illinois! I am honored to be part of planting 150 million stems of milkweed and other native plants across the state in the next 15 years. Thank you so much to all the individuals and groups who helped to make it happen, as well as to Secretary of State Giannoulias and IDNR for finalizing it and for recognizing the positive benefits of doing so for the environment, our state, our cultures, and our citizens."
Where We Are Now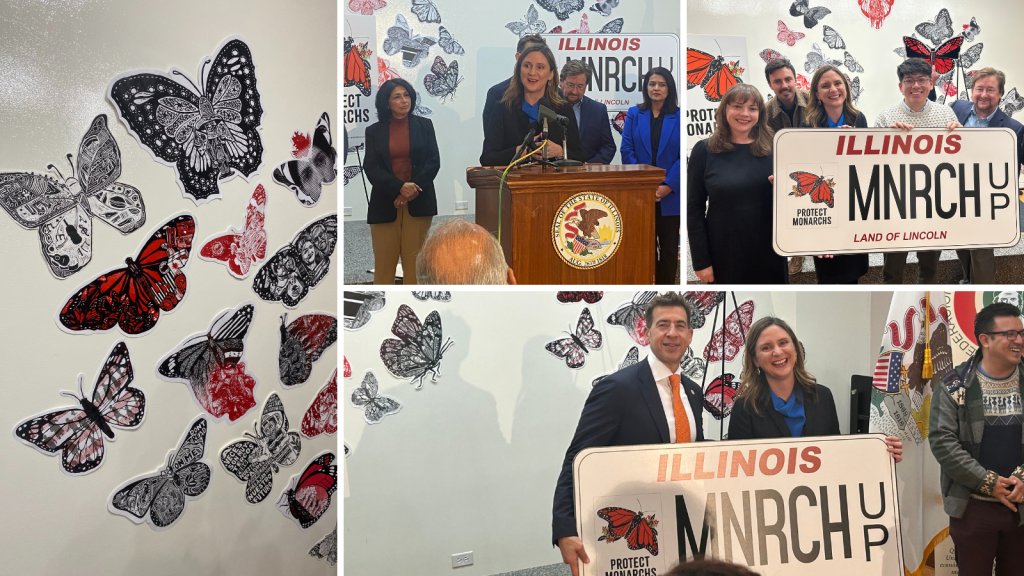 Executive Director Jen Walling joined the exciting announcement from Illinois' Secretary of State's office at Casa Michoacan in Chicago's lower West side Pilsen neighborhood. Alongside Secretary of State Alexi Giannoulias, Illinois' Department of Natural Resources, and friends from the Illinois Sierra Club and NRDC, we were additionally joined by Deputy Majority Leader Rep. Elizabeth Hernandez, Sen. Celina Villanueva, Ald. Silvana Tabares and Ald. Byron Sigcho-Lopez. 
While this is unmistakably an environmental milestone, speakers at the unveiling of the monarch decal noted the significance of the monarch not only to Illinois' environment but to Illinois' migrant population as well. Specifically, Leader Hernandez spoke to the symbolism Mexican Americans find in the monarch, whose migration path passes across borders between the United States and Mexico, like many Illinois residents. You can see the art, above, which served as a backdrop for this announcement and depicted the strong bond between migrant populations and the iconic butterfly.
IEC was proud to join this lineup of speakers celebrating this victory for all of Illinois' monarch-lovers. You can watch the event here. Click here to read our full statement on this historic launch.
How to Get Yours
Now that you know the story behind this decal, don't hesitate: sign up to get yours now! You can visit the Secretary of State's office online to request yours today: ilsos.gov/monarch 
You'll find instructions on how to request your monarch decal, pricing details, and where the funds from these license plates will go by checking out the Roadside Monarch Habitat Fund online.