By: Paloma Campillo, Communications Associate and Iyana Simba, Clean Water Policy Director
There are parts of Chicago where, due to a combination of historical redlining and current zoning laws, pollution is the expectation. These are referred to as Environmental Justice (EJ) areas. For a visual representation, check out this helpful Graphic of by the National Resources Defense Council. 
The creation and maintenance of these areas are a direct extension of systemic racism and classism. Below is a map of the city of Chicago's industrial corridors; note that as you move down south along the corridors, the blocks of purple on the map grow. It's no coincidence that Chicago's Southwest, South, and Southeast sides are predominantly Black & Latinx and working class.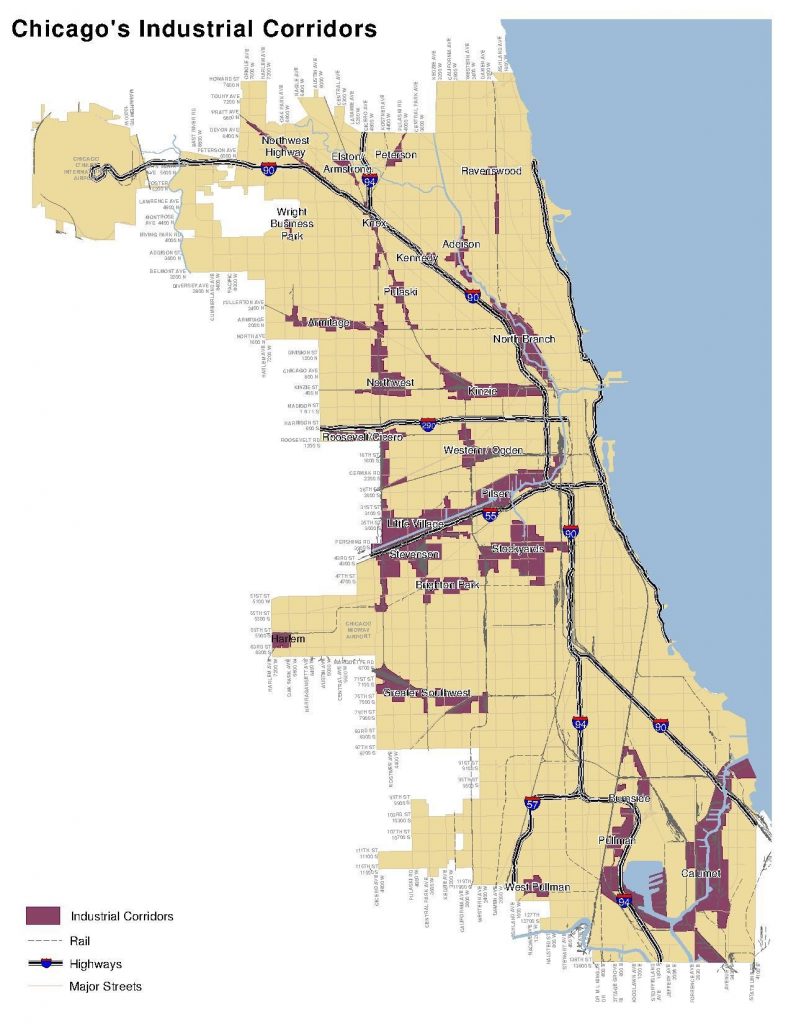 Map of Chicago's industrial corridors. Source: City of Chicago's website here.
Over the past year, those living in or around these corridors have seen several attempts to add even more polluting facilities into their neighborhoods. Environmental justice and community groups from throughout the city have organized and led robust opposition to these proposed projects. It's a lot to sift through, so we drafted this blog post to provide a simple roundup of what's been happening in Chicago.
Industrialization doesn't look like it did decades ago, with new technologies and ways of consuming emerging, and while coal plants and steel mills are being phased out. In particular, e-commerce has emerged as one of the fastest growing industries in the economy, which has led to warehouses and logistics centers popping up all across the country, especially in Black and Brown communities. The pattern is no different in Chicago.
Little Village:
The Little Village Neighborhood of Chicago has been predominantly Latinx since the early 70's when the expansion of the University of Illinois at Chicago's campus as well as the construction of a new highway into the Taylor street neighborhood forced thousands of Latinxs Chicagoans west to the Pilsen and Little Village neighborhoods. Located on the southwest side, South of the predominantly Black North Lawndale neighborhood, Little Village, originally home to a primarily Czech immigrant population, has been home to a large industrial corridor since the 20s. The main polluters we will be focusing on here are the former Crawford Coal Plant and the developer Hilco, both of whom drew widespread attention in the spring of 2020.
Bad Actor: Hilco
In 2012, the Crawford Coal Plant located in the Little Village neighborhood was shut down after a campaign led by local organizations. The Little Village Environmental Justice Organization (LVEJO) and community partners have spent years advocating for a just transition of the site, with proposals including a solar farm or commercial kitchen among other ideas to replace the plant. 
What's Happening?
However in 2018, Hilco Redevelopment Partners purchased the site with plans to build a one million square foot warehouse for Target in its place. This would mean subjecting the neighborhood to high volumes of heavy-duty diesel truck traffic and the ensuing exhaust and dust pollution. Since then LVEJO, Enlace, and other southwest EJ groups have responded by creating the #HellNoHilco or #FueraHilco campaign in attempts to protect their neighborhood from a new influx of pollution. 
In Spring of 2020, the community's concerns about pollution were confirmed when, on the morning of April 11th, Hilco used explosives to demolish the old Crawford Plant smokestacks without proper dust mitigation or warning. Within a minute it was clear the implosion was botched as a large plume of dust containing dirt, asbestos and other particulate matter engulfed Little Village. To residents, the City's decision to approve the demolition was egregiously neglectful, as it was conducted in a neighborhood with degraded air quality and disproportionate asthma rates while a pandemic that attacks respiratory systems raged.
10th Ward:
Chicago's 10th Ward covers the neighborhoods: South Chicago, Hegewisch, East Side, South Deering, Jeffery Manor, Slag Valley, South Chicago, and The Bush. Much of the ward is home to industrial corridors, including Planned Manufacturing Districts where zoning laws are allowing easier operation for dirty industry. An industry-based neighborhood from its foundation, the 10th ward has been burdened for decades by pollution from landfills, neurotoxic manganese and petroleum coke dust pollution left over from the steel industry.
These neighborhoods are predominantly Black and Latinx and have been the site of decades of environmental justice movements, which you can learn more about in this thorough history by NRDC. 
Bad Actor: Confined Disposal Facility
Residents of the 10th ward are facing a couple environmental hazards currently. Where the Calumet River meets Lake Michigan, a confined disposal facility has been operating for nearly 40 years. The facility stores toxic sludge dredged from the Calumet River and the Cal-Sag Channel. It was originally scheduled to close in 2022 and be converted into a park, however the Chicago District of the Army Corps of Engineers is currently proposing to expand the facility. 
What's happening?
Friends of the Parks and local advocates are actively protesting the facility but they fear that even if they are successful opposing this proposal, the waste will simply be moved to another location within the 10th ward. 
Bad Actor: General Iron (RMG)
The 10th Ward is also in the midst of a struggle to keep a scrap metal recycler, General Iron, from coming to their neighborhood and locating down the street from George Washington High School. 
General Iron, owned by RMG, is a scrap metal recycler which, until recently, was located in predominantly white, upper-class neighborhood of Lincoln Park. It opened in the early 1900's, when the neighborhood had a predominantly working class migrant population.
During its tenure in Lincoln Park, General Iron racked up several environmental violations and citations from both IEPA and U.S. EPA, as well as a couple City enforced shutdowns. In 2015, the facility caught fire and harbored multiple explosions, leading to firefighters finding evidence of toxic and corrosive chemicals. In 2016, the Chicago Department of Buildings inspected General Iron and found numerous code violations which then led the City to shut them down. Two years later the U.S. EPA became involved, stating that General Iron "exceeded the allowable limits and… failed to install adequate air pollution controls and obtain the correct air pollution permit." Shortly thereafter, General Iron announced their plans to sell, while the neighboring property is simultaneously moving forward in its process to become the Lincoln Yards development, a large residential and office development planned to take up over 50 acres. 
Despite being forced by the City to shut down following another fire and series of explosions in May of 2020, RMG received an air permit from IEPA the following month. In September, the City approved the first of two permits needed for GII to relocate, breaking their promise to inform the community; giving General Iron permission to begin construction but not yet to operate. General Iron only needs one permit to fully relocate 
What's Happening?
A coalition of neighborhood groups including People for Community Recovery, Southeast Environmental Task Force, Southeast Youth Alliance, Southeast Side Coalitions to Ban Pet Coke, Alliance of the Southeast, backed by other organizations like IEC, Sierra Club, NRDC, and Faith in Place, have been working for months to prevent this move. In August, 2020, community groups filed a Fair Housing Act complaint with the Department of Housing and Urban Development. This move led to federal investigations into the City and IEPA.
In the most recent development, on Friday, February 5, 2020, three activists from the Southeast side began a hunger strike in opposition to the City's quick procession of RMG's permit and continued exclusion of the community from that process.
You can click here to tell Mayor Lightfoot and your Alderman to keep General Iron out of the East side.
What comes next:
There are a number of environmental threats throughout the city. Chicago is currently hearing two other proposed last mile logistics centers being considered, aside from Hilco, and based on projections, we should expect more to come. These distribution centers all pose the same promises and concerns: new and accessible jobs for low income residents, but low wages with few benefits and increased diesel traffic to compound surrounding pollution.
Additionally, the current structural landscape, from the permitting process and those engaged in it to zoning laws that shift throughout the city, allows for some neighborhoods to be legally treated as dumping zones. For a clear example of this, look to McKinley Park's MAT Asphalt— in 2018, the plant went up with little to no public hearings, notice or involvement.    
IEC stands with communities and believes they must be included and treated as the major stakeholders they are in permitting processes that will directly affect their health and well-being. Additionally, getting to environmental justice would require significant structural reform especially to Chicago's zoning laws. While the fight is far from over, there is a bit of groundwork that could be created in City Hall this year. 
In January, 2021, the City Council approved Mayor Lightfoot's ordinance that increases fines for large industrial polluters, like Hilco, that violate air pollution standards. Polluters may now face fines up to $50,000 for a single violation. While community advocates generally support the measure, many want to see regulations that prevent polluters from being put in their communities in the first place. 
In September, Mayor Ligthtfoot introduced an ordinance that would force polluters to face more scrutiny as they seek permits. Moreover, the ordinance would require more regulations and approvals, including allowing for public hearings, before industries are approved to operate. The ordinance was shelved by the Committee on Zoning in January following the introduction of another weaker, developer-friendly air ordinance by Ald. Thompson (11th ward), Ald. Garza (10th ward), and Ald. Cardenas (12th ward). IEC and community partners continue to support the Mayor's air ordinance, which will be heard at the Zoning Committee on Feb. 23, 2021, and oppose the weaker alternative proposal.
Click here to tell your alderman and the mayor and encourage them to pass this ordinance and stronger oversight of polluters in Chicago. 
In the meantime, you can also support groups working on the ground to fight these everyday environmental injustices. Here is a list of organizations to follow and support:
And click here to support the community members hunger striking for environmental justice.