By Tonyisha Harris | IEC Illinois Clean Jobs Coalition Administrator
In recent weeks, I, along with countless others, have taken to the streets to protest the unjust loss of Black lives at the hands of police brutality. As we chanted their names: George Floyd, Breonna Taylor, Tony McDade, my mind wandered to Christian Cooper who could've become a hashtag because of a white woman's conscious choice to weaponize the police against him.
Amy Cooper called the police on Christian Cooper after he instructed her to leash her dog in NYC's Central Park Ramble, where they must be leashed at all times to protect wildlife. Taken aback when simply asked to follow the rules, by a Black man no less, Amy Cooper capitalized on her privilege and fabricated a threat to demonstrate her power in the situation. She filed a false police report claiming that an African American man was threatening her. Of course, Christian's video of the incident quickly proved that her claim was a lie.
Christian Cooper's experience echoes the reality of many Black people as we access public outdoor spaces for both work and enjoyment. The fact is, Black people living in the United States have a complex relationship with nature due to a legacy of enslavement, servitude, and exclusion from green spaces. Fostering a relationship with nature can be an arduous task for our community because we must 1) gain access to these natural areas and 2) validate our existence in these natural areas. In a world in which Black people can't do mundane daily activities without being policed, black faces attract a lot of unwarranted suspicion, even out in public parks and natural areas.
Since the incident in the Ramble, Black birders and environmentalists have shared their stories of being harassed while working in the field and how they must exercise extreme caution by attempting to either minimize their presence or be perceived as non-threatening to simply access public spaces safely. For those of us working in STEM fields whose jobs take us outdoors and into the field often, this suspicion can quickly turn into hostility and create an unsafe, dangerous work environment.
I know this firsthand. I am a Black woman in STEM and I enjoy field work. Despite growing up in the concrete jungle that is Chicago, I love all opportunities to explore nature. My experience ranges from urban agriculture, to whale watching, to data sampling local waterways for research projects. And yet, the only time I've had a conversation about Black people's interaction with nature was with the Sweetwater Foundation's Black founder, Emmanuel Pratt. If you are familiar with Emmanuel and his work, this won't surprise you.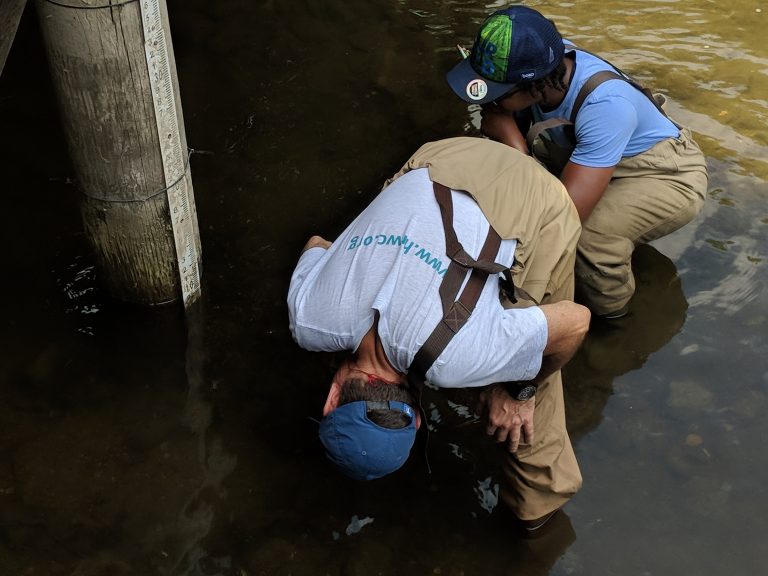 The thing is, scientists do look a little funny and perhaps out of place while working in the field. When I sampled local waterways near private properties in Michigan wearing giant waders, I completely understood quizzical responses from residents. An equestrian trainer passing by once yelled at my research group, "Hey, you guys creeping around in the woods?" This work can appear suspicious. Once you add the dark skin tone, it appears criminal.
According to the Pew Research Center, Black people makeup only 9% of the STEM workforce. The numbers aren't any better in the conservation and preservation fields. The Green Report 2.0 found that ethnic minorities only accounted for 12.8% of staff hired by these organizations in three years.
The lack of Black, indigenous and people of color (BIPOC) in STEM creates the perception that BIPOC people, especially BIPOC women like myself, aren't welcome in the field. Additionally, it implies that the few BIPOC people that are hired will grapple with white supremacy and fragility within these institutions. Furthermore, the public isn't used to seeing a BIPOC person as a STEM worker. This exacerbates suspicion around our presence in natural areas and doesn't provide solace that our employer is aware that this will be a problem.
It's not a coincidence that the only time I've had an honest conversation about Black people in the great outdoors with an employer was when my employer was Black.
This has caused me distress. I have often resorted to policing my own behavior and become overly cautious about my actions. I have wondered to myself, "Do I look like a 'criminal' to the white people nearby?" "Will they find my actions suspicious?" "If something happens, will my employer blame me?"
In a previous role, I was the only BIPOC person at this institution and it showed. I realized how oblivious my colleagues and supervisors were to my safety concerns when on my first day in the field, my white colleagues laughed about frequently being approached by curious police officers while working. Being questioned by the police or an inquisitive white person is no laughing matter for Black people. We don't get the luxury of cordial conversations and the benefit of the doubt when non-Black people deem our behavior, or even existence, suspicious.
I feared being perceived as an intruder and having an altercation with the police or angry residents that my teammates wouldn't know how to handle. I feared that I would spend more time explaining to my teammates why I need help while also trying to escape a hostile situation. I was also angry that no one at my organization explained what I was getting myself into, but how could they? They were all white. They had no idea what it's like to walk around with black skin or how the mundane and recreational activities they enjoy outside can be dangerous for Black people. I had to educate them when that was not my job.
Black people want a healthy relationship with nature and the ability to safely enjoy natural areas. Ahmaud Arbery wanted to jog; Christian Cooper wanted to bird watch, and I wanted to collect water samples. Any white person engaging in these activities would be comfortable, safe, and welcome. White people don't have to consider the safety implications of being outside because of the color of their skin and as a result, have done little to nothing to address and repair the damaged relationship they created between Black people and natural areas. Upsettingly, it was BIPOC labor that built the infrastructure for white people to enjoy these spaces.
Racism is a systemic problem that trickles into the environmental field. If organizations and institutions aren't having these dialogues and educating themselves and staff about the plight of Black people, then they are failing their Black staff, colleagues, and friends. White supremacy and racism don't operate in a vacuum and are ingrained in every facet of Black people's lives – I can only do my job to the best of my ability when my employer recognizes and addresses these issues.
The events in the past few weeks have illustrated the effects of inaction – civil unrest. Black people are exhausted fighting for access and inclusivity. The environmental movement is complicit in excluding Black voices and perpetuating the criminalization of Black bodies in natural spaces. I've been encouraged by the youth climate movement, which is more welcoming and inclusive than its predecessor, but both need to do more to actively address subtle and overt racism in their work.
I'm not interested in excuses, feel-good statements or empty promises. Racial justice is vital to achieving shared goals in the climate movement and rectifying centuries of systemic racism that has treated Black people in inauthentic and transactional ways.
The very credibility of the environmental movement rests on how we handle this moment. But, so much more is at stake. From the lives and livelihoods of Black and Brown frontline communities to the careers of budding young Black women in STEM.