By Colleen Smith
Legislative Director, Illinois Environmental Council
Many of the environmental community's top legislative champions will not be returning to the Illinois General Assembly for another term. Just yesterday, we heard the devastating news that Majority Leader Barbara Flynn Currie, a winner of IEC's lifetime achievement award for her environmental leadership, will not run for re-election and today, Attorney General Lisa Madigan announced that she would not be seeking reelection. Since the beginning of this year, 25 members of the General Assembly have resigned or announced they will not be seeking re-election. Of these, 12 received a 100% on IEC's 2017 Environmental Scorecard and another 14 have scored 100% at some point during their tenure.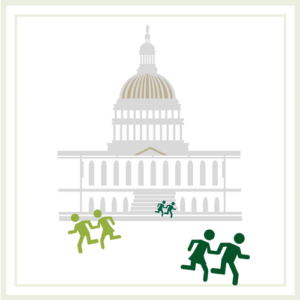 Losing these environmental champions means we are now facing a crisis of leadership in the legislature.
The Illinois Legislative Green Caucus was formed by Rep. Karen May and Rep. Mike Fortner in 2009 for the purpose of educating legislators on environmental issues and establishing a block of consistent votes for priority bills. Since its inception, the Caucus has grown substantially, and we have seen greater voter engagement on environmental issues every election cycle. While we expect these trends to continue, the loss of environmental leaders in both parties – along with the relationships and institutional knowledge they hold – is undeniably a setback.
One of the major successes of the Green Caucus has been its bipartisan leadership during a period of growing partisanship. Rep. Mike Fortner, the long-time Republican co-chair of the green caucus, was crucial in recruiting several Republicans to cosponsor the Illinois Clean Jobs Bill the first day it was introduced. Without this bipartisan support, it's likely that the priorities in the Clean Jobs Bill would not have been as strongly represented in the Future Energy Jobs Act. Additionally, Rep. Fortner worked hard to advance municipal aggregation and to strengthen hydraulic fracturing rules. For these reasons and many others, we were saddened to learn Rep. Fortner would not be seeking re-election.
Also on the Republican side, we will be losing Clean Jobs Bill cosponsors Rep. Steve Andersson and Rep. Barbara Wheeler. Rep. Chad Hays and Rep. Bill Mitchell, who were strong advocates for Mahomet Aquifer protection in their districts, have also announced their retirements.
In addition to Leader Currie on the House Democratic side, the environmental community will also lose Representative Elaine Nekritz. House Democratic Leader Nekritz was the chief sponsor of the Illinois Clean Jobs Bill and has been one of the strongest advocates in the House for renewable energy. In 2014, Rep. Nekritz fought off an attempt by Illinois' biggest polluters to make it harder for the public to participate in air pollution permit proceedings. Considering how highly we valued her commitment and leadership, Rep. Nekritz's retirement was a tough blow for the environmental community.
Rep. Carol Sente, who announced her retirement this week, has been a key leader on sustainability and composting issues.
Our advocacy has relied on the consistent presence of a strong advocate to enforce environmental laws. AG Madigan has been a critical defender of the environment statewide. Our community has relied on her office to stand up for consumers during utility rate making cases and hold polluters who violate environmental standards accountable. Her work with our coalition to require lead testing for public schools statewide has earned her the Illinois Environmental Council's Annual Environmental Leadership Award for 2017, which we will present to her at our Annual Dinner on Wednesday, September 27th.
Turnovers in leadership are always difficult. Educating new legislators and building relationships requires extra time and resources, and both are already scarce. However, this round of retirements presents more than just the usual challenges. We are seeing an unprecedented number of moderate legislators, many of whom are strong on environmental issues, choosing to leave an increasingly partisan General Assembly. The loss of their guidance and leadership will undoubtedly make it harder to pass strong environmental policies. The challenges brought on by these legislative departures will certainly be compounded by the fact that we are also losing a strong advocate in the form of Attorney General Madigan.
Despite these upheavals, the Illinois Environmental Council and our affiliates will work hard to engage new members, both Republicans and Democrats. Your voice as a constituent will be vital as new legislators take office, as the more they hear from people in their districts about the benefits of environmental protection, the more likely they will be to take key votes in support of environmental issues. We are also dedicated to educating all the candidates for Attorney General.
Together, we need to build up new champions in order to protect our air, water, natural areas, and human health.
Update:On Sunday, September 17th, Senator Pam Althoff (R- McHenry) announced she would also not be seeking reelection. Senator Althoff's announced retirement is another critical loss for the environmental community. She has served as the Senate Republican co-chair of the Green Caucus since its inception, and has been instrumental in bringing bipartisan cooperation to several issues, including bills pertaining to recycling and composting. She was also a chief cosponsor of the Future Energy Jobs Act.