By Jennifer Walling
Executive Director, IEC
Governor Rauner's Illinois Department of Natural Resources recently increased the number of bobcat hunting permits from 500 to 1,000 for the upcoming season. The announcement of an increase in the number of permits was issued despite the fact that there is currently a bill sitting on the Governor's desk that would restrict the location and number of bobcats that can be hunted.
Governor Rauner has two weeks to sign HB3399, which would ban bobcat hunting in over 35 counties and restrict the number that can be hunted to 350 in the upcoming hunting season. This announcement concerning the increase in permits is especially troubling now, considering this past legislative session Senator Don Harmon secured an agreement between the IEC, Humane Society of the United States, the Trappers Associations, IDNR, Republicans, and Democrats that offers protections to bobcats in vulnerable areas.
IDNR is actively advertising its bobcat hunting permit sales without information about the new bill. Permits are available here. Anyone in Illinois can apply.
The Illinois Environmental Council – along with the Humane Society of the United States – has fought this program from the beginning, basing our position on the view of ecologists who say the program just isn't justified. In fact, existing populations studies do not justify the existence of a bobcat hunting ban repeal at all. Bobcat hunting had been prohibited in Illinois since 1972 because the species became threatened. In 2014, the hunting ban repeal was vetoed by Governor Quinn, but in 2015, the bill narrowly passed with a one-vote margin and was signed by Governor Rauner.
Thanks to the 1972 hunting ban, bobcat populations were able to recover in a small number of prime habitat areas, but populations have not recovered in most areas of Illinois. The current estimated population of bobcats is around 3,000, with most located in the southern region of the state. Studies by SIU (2002, 2009) and anecdotal reports to IDNR from deer hunters provide good news about the recovery of this animal. Still, the bobcat is notoriously elusive and populations are difficult to accurately measure. There are other studies under way that have not yet concluded.
Testimony in the Illinois legislature in support of this bill focused on "overcrowding" of bobcat populations and on concerns that the animal is a nuisance preying on game birds and livestock. Both arguments are false.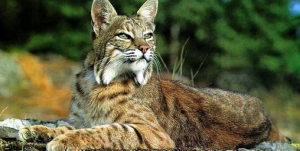 Fewer than 10 were applied for each year. Bobcats are important apex predators with a diet that mostly consists of rabbits, squirrels, and rodents. Standing at an average of 20 to 23 inches high at the shoulder and varying from 10 to 40 pounds, these animal pose little to no risk to people, livestock, or to game birds, which are only rarely eaten by bobcats. The presence of this animal overall improves natural areas, making better habitat for all wildlife, including game.
IEC does not oppose hunting. We are proud to have worked with hunting groups in Illinois to adequately fund IDNR, protect important natural areas, and stabilize animal populations to protect ecologically sensitive areas. This program lacks sufficient research and will not move us towards a goal of recovering bobcat populations in all prime bobcat habitat in the state.
We are concerned that this program is being pushed to meet the wants of special interests instead of basing this hunting program on science. Governor Rauner should sign HB3399 and further roll back this program in order to continue to protect a species that has the potential to be a shining example of what species protection programs can achieve.