By: Alyssa Carrizales, Community Council Intern, and Jade Mazon, founder of Rebel Bells
Communities are unique with their own histories, vision, and priorities. Making an effort to tour and experience these places first-hand, particularly environmental justice (EJ) communities, is an important part of that mission.
Over the summer, IEC went on a tour through the Southeast side of Chicago led by the Southeast Environmental Task Force (SETF), a nonprofit environmental organization located in the Hegewisch neighborhood, fighting to protect their EJ community from increasing pollution and historic disinvestment. SETF provides tours to shine a light on various EJ issues in the community, as well as their diverse natural landscapes. The main highlights of our tour this summer included the following: the Shroud Site, George Washington High School, William Powers Lake, and the PECO pallet plant, which blocks the community's access to the Calumet River. 
Want to learn first-hand about some of these sites and the coinciding EJ battles? Reach out to SETF to learn more about their tour series and how to get involved. Read on to learn along with us!
The Shroud Site
The Shroud Site, also known as "The Coal Hills," is a well-known toxic waste dump in the Hegewisch neighborhood. A landmark at the entrance of Hegewisch at 126th Place and Avenue O, slag, garbage, and construction materials are piled high. It is contaminated with lead, chromium, and manganese, according to the U.S. Environmental Protection Agency, and is considered a superfund site. However, it has not been appropriately closed from the public; many unaware residents of all ages go to the Coal Hills to congregate, including many teenagers and younger kids who tend to go here to socialize. Before visiting this stop, Olga Bautista, SETF's Executive Director, shared that even recently, on the Fourth of July, families could be seen going to the Coal Hills to light fireworks, ride dirt bikes, and celebrate on the toxic hills.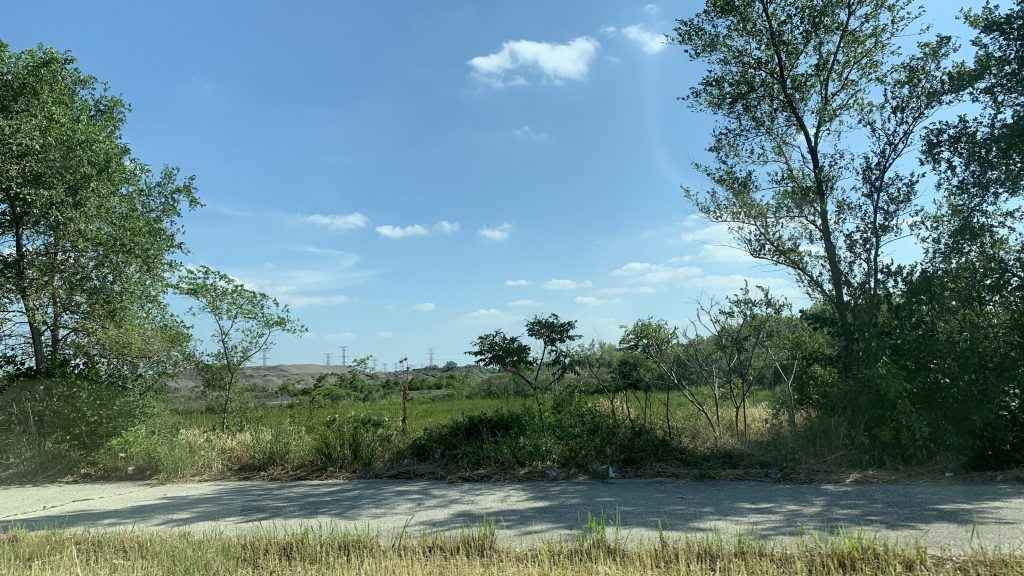 George Washington High School
The next stop on the tour was the local community high school, George Washington High School (GWHS). A majority of the students in the Southeast side community attend this school. This stop was led by a teacher from GHWS, who'd put their health and employment at risk participating in a month-long hunger strike in support of the Stop General Iron Campaign. She explained the school's environmental justice issues and infrastructure problems, as well as the incredible student activism coming from GWHS.
The students there have been pushing to create the school and community they want to see for themselves. For example, they worked together to pressure the local school council to embrace a more modern approach to school safety and discipline instead of over-policing which has been shown to actually endanger students more than keep them safe and contribute to the school to prison pipeline, especially in a school like GWHS, which has a large population of Latino and Black students. Similarly,  the Student Voice Committee was also part of the Stop General Iron Campaign. Students organized and participated in multiple protests. 
On the tour, we learned that GWHS is overcrowded and in need of repairs, with one teacher even noting that the hallways would become so crowded that some students would suffer from panic attacks as a result. This past June, the ceiling caved in after a storm, injuring a security guard.
In response to these issues, the community is demanding new school buildings. They have asked Chicago Public Schools) to build a new green, carbon-neutral high school and elementary school on the Southeast side. In 2020, the Chicago Teachers Union (CTU) put forward a vision, passing a resolution for a CTU Green Schools Campaign to address the climate crisis, environmental racism, school buildings, and green careers for the community. This called for both CTU and the Mayor of Chicago to invest in green and healthy buildings, green jobs, environmental justice, and climate and sustainability education. 
The students at  George Washington High School are not the only youth  making a difference in the community. The Rebel Bells, a nonprofit that serves as a safe space for young women of color to learn and gain skills to navigate the world, with social and environmental justice, was created by three women, Jade Mazon, Kristen Todd Frank, and SETF's own, Olga Bautista. Keep up with what the Rebel Bells are up to by following their social media here and here.
On the Horizon
Another ongoing fight is a proposed underground storage facility located on the Southeast side of Chicago called The Invert located minutes from George Washington High School and just north of the proposed location for the  General Iron metal scrapping facility. This site is an established sacrifice zone, with environmental racism acknowledged by the US EPA. The Invert is owned by the Ozinga company, which already owns several locations in industrial zones in the East Side, South Deering, and Pullman. The Invert is proposing to essentially mine limestone to create this underground facility. SETF are clear that this operation will have a negative impact on the community, and not to mention is a direct violation of the city's Air Quality Ordinance, which bans new mining operations within the city.
SETF is concerned about potential dust pollution, noise pollution, underground water contamination, and further damage to GWHS' infrastructure as a result of the project. 
So What Now?
With recent victories under local activists' belts, as well as some new battles still emerging, there is an opportunity for progress. The same day of the tour, SETF received news of a great victory– the U.S. Department of Housing and Urban Development (HUD) ruled in favor of the community regarding General Iron. HUD accused the City Of Chicago of environmental racism due to a historic pattern of moving polluters into Black and Latino communities. 
The notorious metal shredding operation was previously located in the predominately white Lincoln Park area for years, shredding all types of scrap metal for recycling along the North Branch of the Chicago River. Residents there complained about foul smells, noises, and airborne debris and these complaints were founded–the facility experienced a fire in 2015, a city-ordered shut down in 2017 and an explosion in May of 2020.  In September 2019, Mayor Lightfoot's top lawyer signed an agreement with Reserve Management Group, a company that agreed to buy and relocate General Iron to the Southeast Side. After many complaints from several South Side groups, including the SETF and People for Community Recovery, HUD launched an investigation and ultimately ruled in favor of the community. For a closer look at this battle, you can read other IEC blogs discussing the campaign to Stop General Iron here and here.
With the federal government now involved, there is an opportunity for the City to finally begin working to rectify a long history of environmental racism. The Southeast side is not only home to a high concentration of industry but additionally contains one of the largest concentrations of green space in the city. This means there is an opportunity to develop the latter and bring new green developments into the community. However, any progress cannot be made without heavy community involvement, which is where local powerhouses like the Southeast Environmental Task Force, Rebel Bells, Alliance of the Southeast, and students at GWHS come in. Scroll down to see how you can support the great work underway on Chicago's Southeast Side.