From the Executive Director
Dear Supporter,

The Illinois Environmental Council embarked on 2019 excited by the promise of many new decision makers taking office in Illinois, including a new governor, attorney general and many new lawmakers. On the heels of our candidate education program, these new decision makers came to office educated and passionate about environmental issues.

Our high hopes for what we could accomplish in these new partnerships came with an equally high bar for success. IEC staff and our affiliate member organizations rose to the challenge. Together, we grew our team, expanded our movement and made progress on important conservation, agriculture, energy, water and public health priorities.

As I write this reflection of 2019 a few months into 2020, the world has changed more than any of us could have imaged then. However, I remain confident in what the future holds for IEC.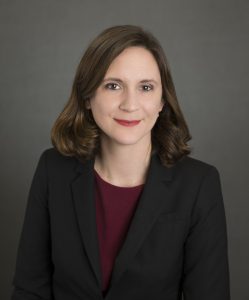 Growing Our Power
IEC is in a stronger position than ever to accomplish our priorities. We entered 2019 with a new vision, mission and strategic plan that will take us into a new decade with a renewed sense of our purpose and priorities. We also expanded six new staff roles, including a new agriculture and water programs director, development director, communications director, finance director, office manager and clean water advocate.
Our physical footprint continues to grow along with us. In 2018, IEC purchased a new office building just blocks from the Capitol Building in downtown Springfield. Thanks to the generosity of our supporters, we were able to make a series of sustainability upgrades to our new home, and in 2019, we installed a 9.72kW rooftop solar array. Consistent with our role as a convener of our movement, our new building has become a hub for the environmental community during legislative sessions and serves a communal space for our movement.
Green Legislature and Green Governor
IEC's policy knowledge, advocacy experience and statewide reach positioned our community to gain substantial ground in 2019 and beyond.
Governor JB Prizker signed Illinois on to the US Climate Alliance as one of his first acts, committing Illinois to achieving 100% renewable energy by 2050, and publicly stated his intention to pass a comprehensive clean energy bill without the influence of big utility companies.
In a demonstration of the growing strength of our community and increasing seriousness with which the General Assembly prioritizes environmental issues, IEC is proud to say that the 2019 legislative session was one of the most productive in decades.
We now have an unprecedented pro-climate action majority in both the Illinois House and Senate. Both bodies voted to repeal the Kyoto Protocol Act of 1998, an outdated law originally passed to prevent Illinois from taking independent action to regulate carbon. 
In most years, repealing this ill-advised legislation would have been a highlight, but in 2019, it was only a precursor of bigger things to come. Introduced in February of 2019, the Clean Energy Jobs Act would make Illinois a national leader in building a just and equitable clean energy economy while tackling climate change. And Illinois voters are ready: over two lobby days, IEC and our affiliates brought over 1,000 people to lobby day in Springfield, marking the largest events in our 44 year history.
Environmental Policy Wins
In 2019, we coordinated a broad and ambitious environmental legislative agenda, defeated potentially damaging legislation and secured important appropriations in the state budget.
The class of freshman lawmakers brought protection of the environment to a new level. Nineteen of the 50 lawmakers receiving a 100% rating in our annual scorecard were in their first legislative session, setting the stage for many promising opportunities over the next few years.
Thanks to these new and existing champions in the legislature, we made polluters pay to clean up coal ash, banned BPA receipts, removed prohibitions on the regulation of carbon emissions, curtailed illegal logging, protected soil health, fostered water jobs, encouraged reuse and recycling, secured nation-leading energy efficiency standards for cannabis production, funded a billion in environmental programs through the capital plan, and so much more.
Environmental Justice
Our new strategic plan recognizes that IEC is a historically white-led organization that needs to make significant strides in holding ourselves accountable to the communities we aim to serve. Examples of environmental racism are all around us, and it is our responsibility to help break down the systemic barriers to clean air, water, and open spaces. Our work is not done until frontline communities, communities of color, and under-served communities all across our state benefit from these essential resources.
What Does the Future Look Like
It is an exciting time for IEC and for the environmental community in Illinois and we are more optimistic than ever. We saw youth lead our movement, as thousands marched in our streets for climate action, building bridges and momentum with real results. Afterall, the work we're doing today will impact their futures more than anyone else.
As IEC grows stronger, so too does our community. If you have joined us by taking action, donating, attending a lobby day or volunteering in some way, please know how much we appreciate you.
In community,

Jennifer Walling
Our vision is to create an Illinois where informed decision makers successfully champion the environment and win.
We advance public policies that create healthy environments across Illinois
From the Board Presidents
First, let us say how grateful we are for your support and participation in the work of the Illinois Environmental Council and the IEC Education Fund during these difficult times. As our state – and world – faces an unprecedented crisis, we have been inspired by the continuing service, support and solidarity shown by this community.
We are proud that the IEC and IEC Education Fund are able to serve Illinois now, as we weather this crisis, and continue to advance our mission to protect and ensure a healthful environment for all Illinoisans.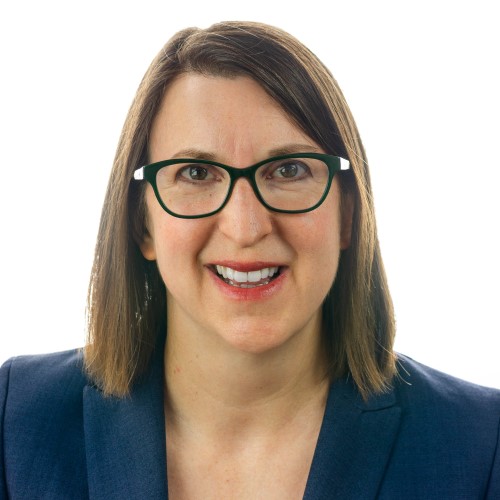 We entered 2020 with sound financial footing thanks to consistent long term support from a diverse set of institutional funders and contributions from a steadily growing number of affiliate organizations and individual members.
The organizations' staff grew to 12 staff members in 2019, bringing on experts in communications, development, water policy, and youth advocacy. We have enjoyed working with the new staff and watching the organization's reputation and capacity to support member organizations and to lead the environmental movement in Illinois grow as a result of their talent and hard work.
In 2019, we completed and began to implement a new three-year strategic plan. The plan established the IEC and IEC Education Funds' vision of an Illinois where informed decision makers successfully champion the environment. Also, both organizations now have distinct mission statements and strategies for achieving those missions. We are grateful to the affiliate staff, individual members, survey respondents, board members and other stakeholders whose input and guidance helped shape the plan.
This past fall, we celebrated a number of exciting legislative victories and our champions in the General Assembly at our 17th Annual Environmental Leadership Dinner. The event was a huge success, where over 450 attendees toasted the recipients of the Legislative Leadership, Milestone Achievement and Community Champion Awards as they were presented by members of our board. At the dinner, generous attendees also made significant donations toward the installation of solar panels on our Springfield office roof, which were installed in September!
So, 2019 was a good year for the Illinois Environmental Council and IEC Education Fund. We look forward to continuing to serve Illinois and our shared environment in 2020 and beyond.
2019 IEC Board of Directors
IEC OFFICERS
Anne McKibbin, President
Kelly Mazeski, Vice President
Delmar Gillus, Treasurer
Andrew Szwak, Secretary
IEC ELECTED DIRECTORS
Delmar Gillus
Christine Del Priore
Dave Kolata
Karen May
Kelly Mazeski
Juliana Pino
Lauren Rosenthal
Michael Tryon
IEC APPOINTED DIRECTORS/LEAD AFFILIATES
Anne McKibbin, Elevate Energy
Dick Munson, Environmental Defense Fund
David McEllis, Environmental Law and Policy Center
Pastor Scott Onque', Faith in Place
Margaret Frisbie, Friends of the Chicago River
Kady McFadden, Illinois Chapter of the Sierra Club
J.C. Kibbey, Natural Resources Defense Council
Ashley Maybanks, The Nature Conservancy
Andrew Szwak, Openlands
Elliot Brinkman, Prairie Rivers Network
Brian Urbaszewski, Respiratory Health Association
Jessica Collingsworth, Union of Concerned Scientists
John Delurey, Vote Solar
2019 IEC Young Professionals Board
Jen Baader
Jaclyn Carmichael
Marc Celani
Brendan Dailey
Christine Del Priore
Matt Evans
Beverly Halloran
Jordan Henderson
Molly Kordas
David McEllis
Mark Mesle
Mark Milby
Ashley Parr
Katrina Phillips
Kelsey Rodheim
Jeff Shaknaitis
Lynza Sprowl
Kit White
Jennifer Walling, Executive Director
PROGRAMS
Colleen Smith, Legislative Director
Eliot Clay, Agriculture & Water Programs Director
Lindsay Keeney, Conservation Director
Iyana Simba, Clean Water Advocate
Tonyisha Harris, IL Clean Jobs Administrator
Cary Shepherd, Policy Director
DEVELOPMENT & COMMUNICATIONS
Matt Steffen, Deputy Director
Jeff Shelden, Development Director
Tucker Barry, Communications Director
OPERATIONS
Crystal Kern, Finance Director
Alli Kearney, Office Coordinator
Paloma Campillo, Events Coordinator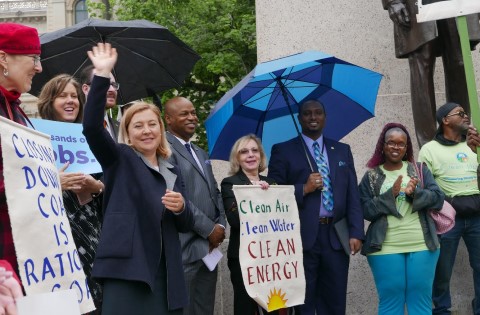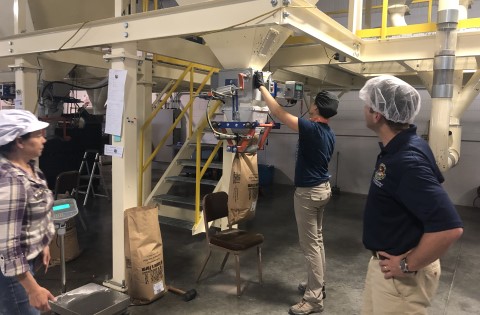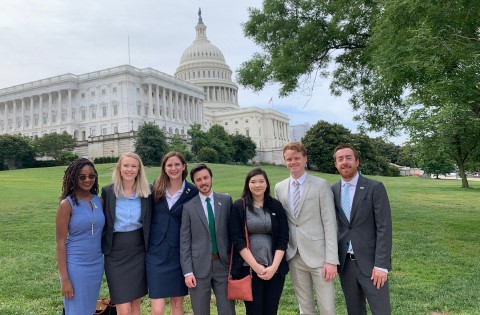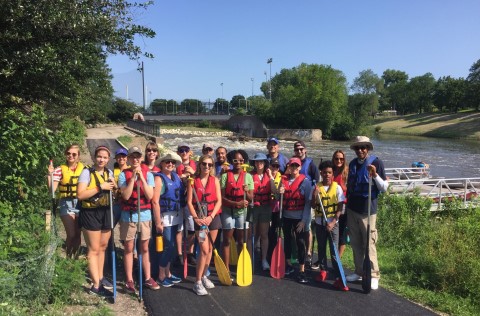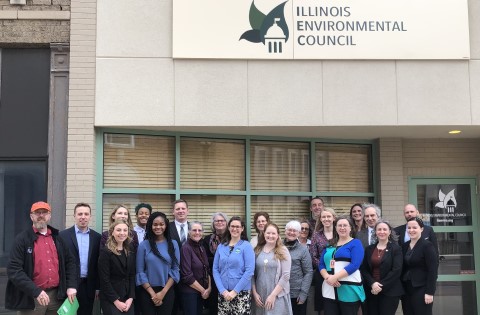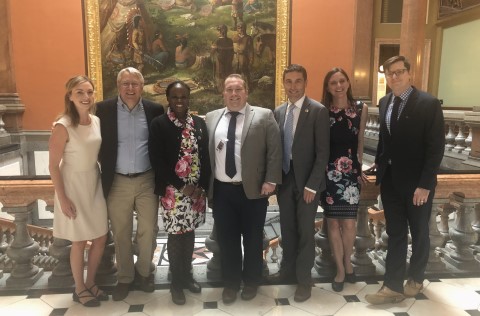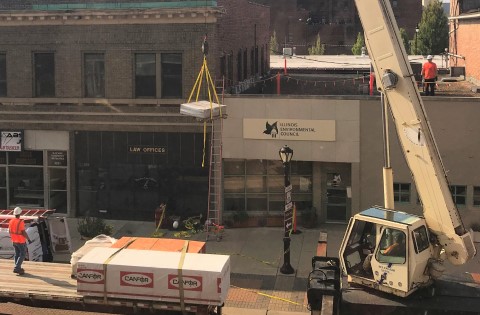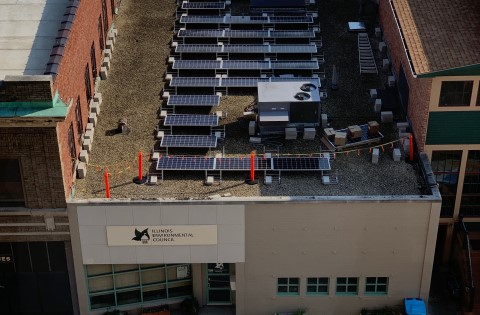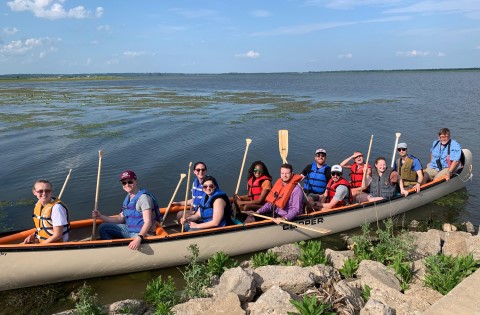 IEC hosted two lobby days in 2019 – one during regular session & one in veto session. Combined, our community brought over 1,000 activists from all over IL to advocate for CEJA!
We passed a broad and ambitious agenda, defeated damaging legislation, and secured important appropriations in the budget. Gov. Pritzker made bold commitments to renewable energy.
The Coal Ash Pollution Prevention Act funds coal ash cleanup through permit fees and ensures that companies set aside the money to close and clean up coal ash ponds.
2020 budget includes a new program to incentivize cover crops, funding for Soil & Water Conservation Districts, and funding for the conservation reserve enhancement program.
Gov. JB Pritzker signed legislation that immediately repealed the Kyoto Protocol Act of 1998, which prohibited IL from restricting greenhouse gas emissions.
Greenest Cannabis in the Country
With input from the environmental community, Illinois is about to become the national leader for environmental protection in the cannabis industry.
Throughout its 40-year history, the Illinois Environment Council has fought tirelessly to ensure that the people, plants, animals, and natural areas in every corner of our state are protected. The IEC's work is essential in building community awareness of environmental issues, enacting stronger environmental laws, and sounding the alarm for accountability when it's time to hold polluters accountable for jeopardizing our environment and the public's health and well-being.
Illinois Attorney General Kwame Raoul
The Illinois Environmental Council has been at the forefront, leading the way for all of us to champion the environmental issues which are so critical to the future of Illinois.
State Representative Ann Williams (11th District)
I think that IEC is one of the most important advocacy organizations in Springfield…We've seen it in these past several years with major legislative victories, from the Future Energy Jobs Act, to ethylene oxide, to coal ash– all against very powerful interests who wanted to keep polluting without government intervention.
State Representative Will Guzzardi (39th District)
Joyce Blumenshine
Phyllis Brissenden
Christopher Gaggero
Steven Gouletas
Karen May
Reid McCollum
Heather Steans
Steven and Nanette Andersson
Richard Breckenridge
Bob Fisher
James Mann
Kelly Mazeski
Anne McKibbin
Kevin Ogorzalek and Heather Sullivan
Merrill Smith
George Tully

Eric M Bohn
Steven Byers
Nancy Chadbourne Maze
Rick Courtheoux
Laura Davis
Steven Gouletas
R Given and Jean Harper
Anne Hill
Rob Milburn
Julie Moller
Kevin and Linda O'Neill
Henrietta Saunders
Jerome Seidenfeld
Victoria Trauscht
Mary Vieregg
Leroy Wehrle
Dennis and Anita Werling
Ryan Adams
Kristine Baldo
John Bartok
Lenore Beyer
Mary Blackmore
Brett Borneman
Alice Brandon
Clare Butterfield
Susan Casey
Dawn Dannenbring-Carlson
Linda Englund
Marjorie Ettlinger
Sara Feigenholtz
Charles and Debbie Frank
Julia Friedman
Karen Glennemeier
Deanna Glosser
Randy Gunn
MaryAnne Harrison
Fran Harty
John Havlik
David Heiberger
Alice and Bill Howenstine
Kristin Izenstark
Larry C. Johnson and Mardell J. O'Brien
Marta Keane
June and Steve Keibler
William Koehl
Rachel Krucoff
Julie Long
Josina Morita
Adam Murad
Rosemary Naseef
Stephen Packard
Larry Page
Verne Peterson
Kristin Pink
Bruce H. Ratain
Hendrica Regez
Marilyn Schweitzer
Cindy Shepherd
Dale Shields
Valerie Sivicek
James Smedinghoff
Pamela Smith
Vicky Sroczynski
Matt Stedl
Richard Steffen
Richard Stuckey
Robert Szafoni
Andrew Szwak
John Viebach
Louise Voegtle
Thomas Von Geldern and Cynthia Skrukrud
Brian L Wallen
Mark Weitekamper
Kit White
Jodi Wine
Thank you to our institutional funders!