The election of Joe Biden as 46th President of the United States comes as a welcome relief after more than 100 environmental regulations were rolled back over the past four years. With President Biden and Vice President Harris in the White House with a strong team of environmental experts behind them, we are finally on a path to a more equitable and just clean energy future.
While we all have a role to play in securing that future, the people President Biden surrounds himself with will play out-sized roles in taking on the four interconnected crises our nation faces — the pandemic, a broken economy, racial injustice and climate change.
Their backgrounds tell us about what changes we might expect to see at the federal level over the next few weeks, months and years. Below you'll find brief descriptions of the presidential appointees who will directly affect our environment and information about how their actions may impact us here at home in Illinois.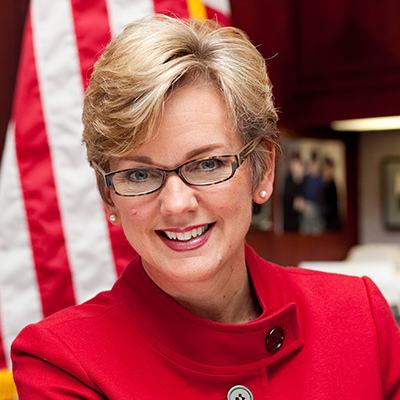 Position: The Secretary of Energy advises the president on all issues and policy related to energy, including overseeing the United States' nuclear weapons supply. The Department of Energy employs over 100,000 people in DC and nationwide and has a budget of $31.7 billion.
Nominee: Jennifer Granholm is a clean energy advocate and former governor of Michigan from 2003-2011. She previously served as the attorney general of Michigan and is often recognized for her work with the state's auto industry during the financial crisis.
Opportunity for Illinois: As Illinois looks to pass comprehensive clean energy legislation this year, Granholm will be a valuable ally in the new Biden administration. Largely supportive of the Green New Deal and green jobs in general, Granholm noted in a recent op-ed that "prior to the pandemic, clean energy was one of the fastest growing industries in Michigan," another Midwest state, "supporting over 125,000 jobs." She understands that green jobs are a fast-growing industry, which bodes well for Illinois as the state strives to create more of them.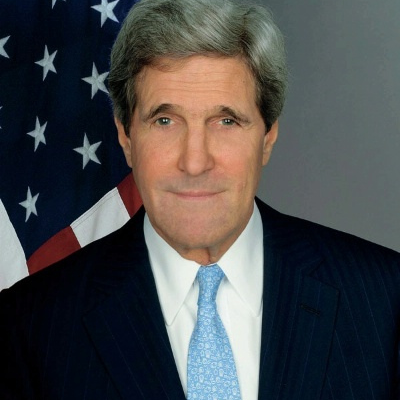 Position: The Special Presidential Envoy for Climate acts as a senior advisor to the president on climate policy. Needing no Senate confirmation, John Kerry will begin his role on Inauguration Day, Jan. 20, 2021. The climate envoy was elevated to be a part of the National Security Council, a nod to the significant security issues presented by a changing climate.
Nominee: John Kerry is the former Secretary of State for President Obama between 2013 and 2017 and former US Senator from Massachusetts from 1985 to 2013. In his long government tenure, he has been an advocate for addressing the threat that climate change poses for America and the world. Kerry has seen successfully negotiated climate issues, specifically in his efforts to secure the Paris Climate Agreement.
Opportunity for Illinois: As Illinois pushes forward in its attempt to pass the Clean Energy Jobs Act (CEJA), the state sees a potential ally in Special Envoy Kerry. Kerry has long held the belief that we need to move away from fossil fuels and towards clean energy sources, and CEJA is a nation-leading blueprint for what an equitable transition can look like.
In line with the 30×30 initiative, Kerry, during his presidential run, supported an initiative to restore America's waterways. Kerry also put forward his own plan to protect and restore the Great Lakes. Focusing in part on invasive species, Kerry understands the devastating impact these creatures, such as Asian carp, can have on the ecosystem here in Illinois and throughout the country. As Illinois moves to try and preserve 30% of its land by 2030, Kerry could be a valuable ally with regards to restoring watersheds and protecting waterfronts and coastal communities.
Position: The National Climate Advisor is head of the newly created White House Office of Domestic Climate Policy. Along with Special Envoy Kerry, McCarthy will be advising and helping to coordinate President Biden's domestic climate plans.
Nominee: Gina McCarthy headed the Environmental Protection Agency from 2013 to 2017 during President Obama's second term, directed a new climate and health science center at Harvard University and in 2019 was appointed to be CEO of the Natural Resources Defense Council.
Opportunity for Illinois: As former head of the US EPA, Gina McCarthy carries with her a knowledge of institutional systems that will make her successful in this role. Under her guidance, the EPA spearheaded action on significant environmental issues at all levels of government, including the state level. With budgeting problems in Illinois leading to less action on climate issues, it is possible McCarthy will be an advocate for providing aid to the State of Illinois to properly address our climate challenges.
U.S. Environmental Protection Agency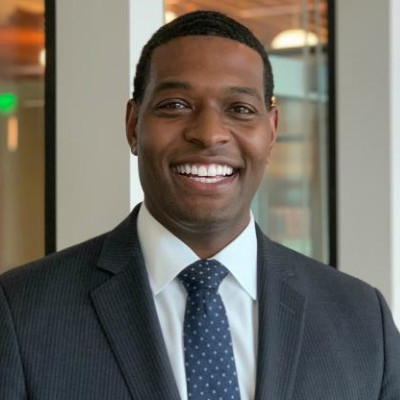 Position: The Administrator of the EPA heads the U.S. EPA and is responsible for enforcing the Clean Air and Clean Water Acts and oversees overall activities to protect human health and the environment. The US EPA, as of 2018, has 13,758 employees and a budget of $6.1 billion.
Nominee: Michael Regan, a former Southeast regional director at the Environmental Defense Fund and former U.S. EPA official during the Clinton and Bush administrations. He currently serves as North Carolina's environment secretary. If confirmed, Regan would be the first African American man to run the EPA.
Opportunity for Illinois: Michael Regan is noted for the progress he led on environmental justice matters at North Carolina's Department of Environmental Quality and is expected to bring a similar approach to the U.S. EPA. In Illinois, home to some of the nation's largest metropolitan areas, we see a range of environmental justice issues such as environmental racism in permitting and planning, lead in drinking water across the state and crumbling infrastructure, to name a few.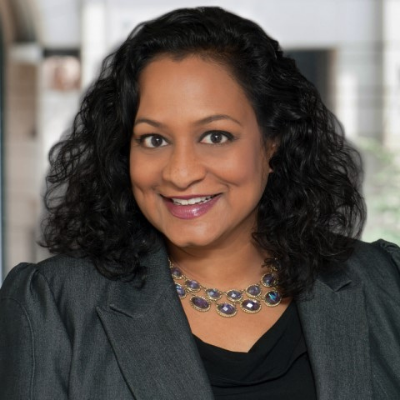 Position: Assistant Administrator of the EPA's Office of Water (OW). OW oversees enforcement of federal clean water and drinking water laws, and restores and maintains oceans, watersheds and their aquatic ecosystems.
Nominee: Radhika Fox, current CEO of the US Water Alliance, a nonprofit organization that convenes diverse stakeholders to advance sustainable water policies and programs. For decades, she has advocated for water policy investments with a clear commitment to equity and inclusion. Prior to her time at Alliance, she oversaw policies and government affairs for the San Francisco Public Utilities Commission. 
Opportunity for Illinois:  Fox's deep commitment to equity and environmental justice, also priorities of Biden admin, could mean more federal dollars towards Illinois' environmental justice communities that suffer disproportionately from flooding, lead pipes and inefficient, aging water infrastructure.
President Biden's US EPA Transition Team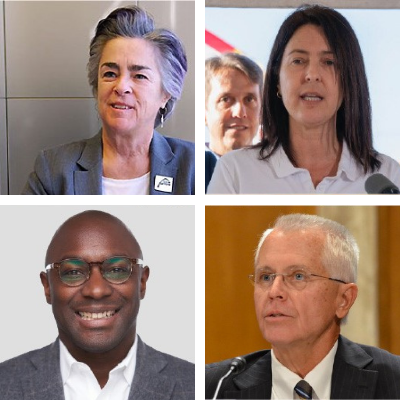 Cynthia Giles, Shannon Estenoz, Luseni Pieh & Ken Kopocis
Position: Members of President Biden's EPA transition team are tasked with assisting the incoming administration with policy and personnel matters, so that they can hit the ground running on day one. The following are water experts who are currently serving in the Biden transition and are likely to join Fox in the Office of Water.
Potential nominees:
Cynthia Giles has significant experience enforcing and litigating the Clean Water Act and led the EPA's  enforcement office during the Obama administration. She brought charges against Duke Energy Corp. for violations that sent more than 30,000 tons of coal ash waste into the Dan River in North Carolina.
Shannon Estenoz is a longtime Everglades restoration advocate and was Obama's federal point person for restoration of the Southern Florida region. She served as Director of the Department of Interior's Everglade restoration initiative. 
Luseni Pieh is a Los Angeles consultant who recently served as the acting CEO of River LA, a group focused on beautifying and integrating natural infrastructure along the Los Angeles River. He also served as former deputy chief of staff for programs and strategic initiatives at the EPA from January 2015 to January 2017.
Ken Kopocis served as senior adviser and deputy assistant administrator in the Office of Water from 2011-2015 where he oversaw the first new limits in 30 years on toxic discharges from coal-fired power plants.
Opportunity for Illinois: If nominated to positions in the Office of Water, these experts could have a significant impact on water regulations, potentially undoing rollbacks to water laws under the Trump administration and bolstering existing programs under the Clean Water and Safe Drinking Water Acts. More specifically, changes to the Lead and Copper Rule could influence the level of funding for and the pace of lead service line replacement in Illinois. 
Changes to the Waters of the United States rule could impact protection for Illinois' wetlands. Kopocis and Giles's extensive experience in dealing with coal ash pollution could bring strict federal coal ash regulations and protection of nearby water bodies for the foreseeable future. Finally, this could lead to more stringent standards for toxins like lead and PFAs in drinking water.
Department of Transportation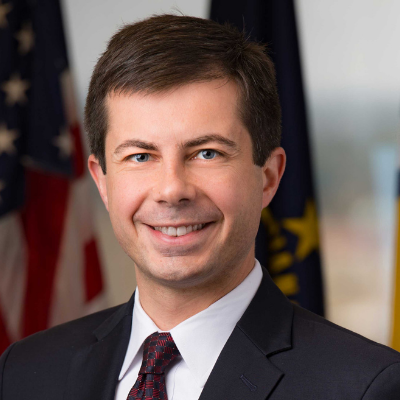 Position: The Secretary of Transportation advises on transportation policy and oversees the Transportation Department, which has 55,000 employees and a budget of $87 billion. It is composed of the Federal Highway, Transit, Motor Carrier Safety, U.S. Maritime and National Highway Traffic Safety administrations, along with the St. Lawrence Seaway Development Corporation and its own Office of Inspector General.
Nominee: Pete Buttigieg was the mayor of South Bend, IN (pop. 100,000 with 1,143 employees, and an annual budget of $358MM) from 2012 to 2020. Buttigieg was an intelligence officer in the U.S. Navy Reserve and deployed to Afghanistan in 2014. Buttigieg would be the first openly LGBTQ person in U.S. history to have a permanent Cabinet role. He ran in the 2020 Democratic primaries and endorsed Biden after withdrawing in March. As a presidential candidate, Buttigieg's climate plan included 100% new zero emissions cars by 2035 and 100% new zero emissions trucks and buses by 2040.
Opportunity for Illinois: Having been the Mayor of a mid-sized city in the Chicagoland area, Buttigieg is aware of the transportation issues affecting the Midwest and still has many ties to the region. At the announcement of his nomination, Buttigieg spoke fondly of riding Amtrak, which has 36 stations, 4 state supported routes, 5 long-distance routes with stops, 3 long-distance routes that terminate and 4 corridor services that terminate in Illinois. He has publicly stated support for Biden's commitment to provide every American city with 100,000 or more residents with high-quality public transit and low-carbon transportation options. As a presidential candidate, Buttigieg called for spending $6B on charging infrastructure in the US and has called for putting millions of new EVs on American's roads.
Department of the Interior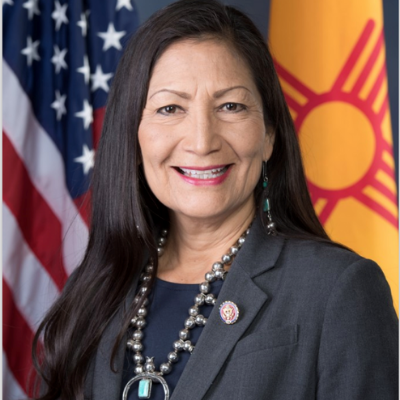 Position: The Secretary of the Interior advises on federal lands and their natural resources while overseeing the Bureau of Indian Affairs, the National Park Service, and the Fish and Wildlife Service. This department employs around 70,000 people and has a budget of $12.8 billion.
Nominee: New Mexico Rep. Deb Haaland, enrolled member of the Laguna Pueblo, was elected to the US House of Representatives in 2019, one of the first two Native American women to serve in Congress. If confirmed, she will be the first Native American person in a Cabinet role. Rep. Haaland is a former tribal administrator and has administered a local service provider for adults with developmental disabilities.
Opportunity for Illinois: Rep. Haaland is a supporter of the 30×30 initiative, a campaign to preserve 30% of the world's land and water by the year 2030, which is supported by IEC, our affiliates, Mayor Lightfoot and Gov. Pitzker. Support from the Biden administration will expedite intergovernmental collaboration and conservation opportunities, helping us reach our 30% goals here in Illinois on time.
Rep. Haaland has experience navigating the needs of a state with considerable ties to fossil-fuels and expanding clean energy production. Her experience working with the energy sector could prove beneficial in Illinois's plans to become a hub of clean energy production and construction in the Midwest.
Department of Agriculture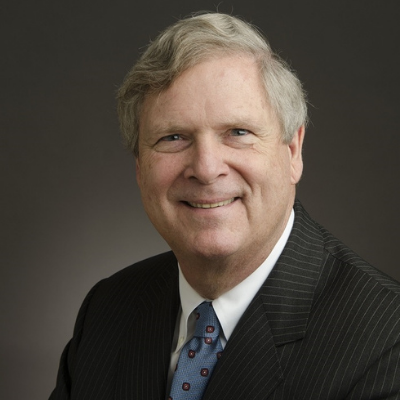 Position: The Secretary of Agriculture is the head of the United States Department of Agriculture (USDA) and advises on food production, rural development, agriculture and nutritional food assistance programs. The USDA also oversees the US Forest Service, which is heavily invested in the forest management of the Shawnee National Forest and surrounding properties. It employs nearly 100,000 people and has a budget of $22.4 billion.
Nominee: Tom Vilsack was a former Iowa governor from 1999-2007. He was unanimously confirmed by the Senate in 2009 as the Secretary of Agriculture and served during both terms of the Obama administration. While he held this position, he oversaw investments in rural communities, improved the country's school meal system and successfully increased food safety standards. Since then, he has been CEO of the U.S. Dairy Export Council, which is backed by the dairy industry.
Opportunity for Illinois: Secretary Vilsack's prior experience is welcome as farmers and rural communities grapple with the unprecedented economic and health impacts of COVID-19. Economic relief for those communities will likely be a top priority. He will also play a large role in negotiating the upcoming 2023 Farm Bill, as well as various policy rollbacks from the Trump administration. In light of these expected rollbacks, soybean farmers may see some relief as the price of soy recovers in the coming months with the Biden administration.
The USDA has the opportunity to play a larger role in environmental issues, potentially expanding the footprint of programs like the 30X30 initiative. We may see new funding for clean energy rural development programs, incentives for farmers to implement environmentally friendly practices on their farms and the promotion of reforestation. There is also an opportunity for Illinois to better secure federal funding from the USDA for local and state programs.