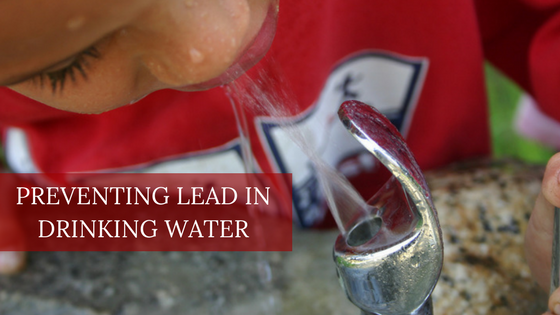 I
n the wake of the Flint lead crisis, many states, local communities and parents came to a disturbing realization: federal law does not require schools to test for and address neurotoxic lead in their drinking water. Illinois ranks higher than the national average for childhood lead exposure, which can lead to lifelong intellectual, emotional and behavioral consequences, lower IQ, slowed growth, hearing problems and anemia.
Though the situation in Flint was particularly harrowing, it was not the only city that was found to have alarming amounts of lead in the water. Here in Illinois, the citizens of Galesburg continue to deal with the fact that their water exceeded the federal action level of 15 parts per billion 22 times in the last 25 years. Knox County, which is home to Galesburg, also has some of the highest rates of childhood lead poisoning in Illinois.
At one point, the situation was bad enough that the EPA regional water division director urged the state to get a commitment from Galesburg, a city of 30,000, to provide bottled water or filters to residents whose homes exceed the federal action level for lead.
But issues of lead in drinking water were not confined to Galesburg. In the spring of 2016 Chicago Public Schools began voluntarily testing school drinking water for lead and many of the results were alarming: of 526 schools have been tested, 192 schools have found at least one fixture above the federal action level, 334 additional schools have found lower levels of lead.
In response to these crises, the Illinois General Assembly approved SB550, or the Preventing Lead in Drinking Water Act. Because there is no safe level of lead in drinking water, Attorney General Lisa Madigan's office and a coalition of environmental groups, including the umbrella Illinois Environmental Council, NRDC, the Prairie Rivers Network, and the Little Village Environmental Justice Organization, worked to pass legislation that requires basic steps to protect children from lead poisoning.
Our Vision for Getting the Lead Out of Drinking Water
Learn More and Take Action
CDC: Lead Prevention Tips – Water FAQ
Chicago Public Schools: Lead Testing
New York State DOH: Sampling for Lead in Drinking Water in NYS Schools (Video)
USEPA: Basic Information about Lead in Drinking Water
USEPA: Drinking Water in Schools and Childcare Facilities
3Ts for Reducing Lead in Drinking Water in Schools and Child Care Facilities