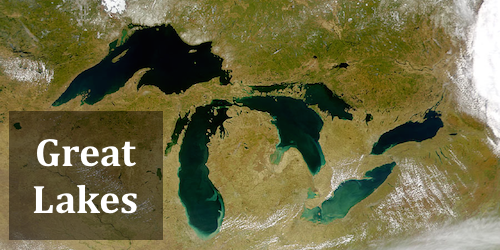 Containing nearly 20% of the earth's fresh water, the Great Lakes represent the largest freshwater system in the world, creating unique conditions that support a wealth of biological diversity. Several habitat types can be found in the basin including forests, wetlands, and dunes, which serve as home to more than 3,500 species of plants and animals. The Great Lakes are also an important resource for humans, providing recreation, food, and drinking water for 40 million people.
Unfortunately, human activities are negatively impacting the basin. For example, nutrients from agriculture and toxic chemicals from industry have drained into the basin, resulting in the loss of species, which adversely impacts the basin ecosystem and poses an ongoing threat to the biological diversity in the basin.
As a result, the biodiversity of species and ecosystems in the Great Lakes basin has suffered over the years–in fact, they are now deemed imperiled on a global scale. What's more, the Illinois portion of Lake Michigan is impaired, failing to support its "designated uses," including fish consumption, aesthetic quality, and primary human contact (e.g., swimming) along the Illinois shoreline.
To address these dire situations, Illinois' aquatic natural resources including wildlife and habitat should be protected, and Illinois laws should fully protect Lake Michigan water and habitat.
W
hile there is still much work to be done, there have been several legislative successes in protecting Illinois water so far.
Learn More and Take Action
US EPA's report on Conservation of Biological Diversity in the Great Lakes Basin Ecosystem: Issues and Opportunities.
The Alliance for the Great Lakes is a great resource for learning more about the Great Lakes and provides a list of action items for how you can help!
Great Lakes Initiative: In 1995, EPA and the Great Lakes states agreed to a comprehensive plan to restore the health of the Great Lakes. The Final Water Quality Guidance for the Great Lakes System, also known as the Great Lakes Initiative, includes criteria for states to use when setting water quality standards.
The Nature Conservancy – Great Lakes Project: Provides an interactive map of the 94,000 square miles covered by the Great Lakes.
Prairie Rivers Network is Illinois' advocate for clean water and healthy rivers. They work to reduce water pollution, preserve river habitat and flow, and promote river stewardship through the following programs and campaigns.
Shedd Aquarium:
High Stakes of the Great Lakes – series by the Shedd Aquarium: