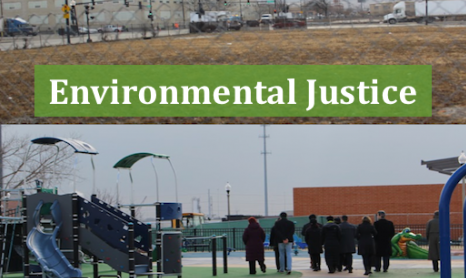 T
he American Environmental Justice Movement can be traced back to the materialization of the American Civil Rights Movement in the 1960's. The movement reached a new level in Warren County, North Carolina in mid-September 1982. Warren County, North Carolina was a predominantly poor, rural, African-American community. When the state government chose Warren County to house 6,000 truckloads of soil laced with toxic PCBs, community members and allies protested garnering national attention. The demonstrations and legal disputes organized by community members of Warren County are considered by many to be the first major milestone in the national movement for environmental justice.
"Now all of the issues of environmental racism and environmental justice don't just deal with people of color. We are just as much concerned with inequities in Appalachia, for example, where the whites are basically dumped on because of lack of economic and political clout and lack of having a voice to say "no" and that's environmental injustice."
-Dr. Robert Bullard
Chicago, Illinois is the birthplace of Hazel Johnson known as the "Mother of the Environmental Justice Movement." She was a pioneer of environmental justice activism in South Side Chicago. She founded People for Community Recovery in 1979 in an effort to get asbestos out of the buildings in her community. When she began networking with other organizations she was able to trace air and water pollution in her community to nearby industry that was using the predominantly poor African-American community of Altgeld as a dumping ground. Hazel Johnson was one of many activists to advocate for an executive proclamation that affirmed every American's right to breathe freely, drink clean water, and live on uncontaminated land.
On February 11, 1994 Johnson stood at the side of President Clinton as he signed Executive Order 12898 directing federal agencies to identify and address the disproportionately high and adverse human health or environmental effects of their actions on minority and low-income populations. On the 20th anniversary of Executive Order 12898, President Barack Obama renewed the federal government's commitment to environmental justice for all. It is only appropriate that President Barack Obama would deliver this pledge since he worked alongside Hazel Johnson in Southside Chicago as a community organizer in the 1980's.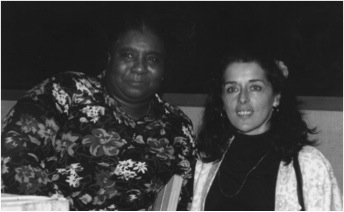 Hazel Johnson being honored at IEC's Environmental Leadership Dinner in 1993.
The United States Environmental Protection Agency defines environmental justice as the fair treatment and meaningful involvement of all people regardless of race, color, national origin, or income with respect to the development, implementation, and enforcement of environmental laws, regulations, and policies.
The goal for environmental justice will be achieved only when everyone enjoys the same degree of protection from environmental and health hazards and equal access to the decision-making process to have a healthy environment in which to live, learn, and work. We have yet to achieve the goal of environmental justice in the state of Illinois. In advancing this goal environmental justice advocates work on a daily basis to organize and educate their communities, wage legal challenges and promote sound laws and policies.
Brownfields Redevelopment
Illinois' communities are important to the social and economic vitality of the state. However, many urban, suburban, and rural communities struggle to cope with vacant, abandoned, and tax-delinquent properties. Many of these properties carry the additional issue of being contaminated with hazardous waste or pollution or is feared to be so. These properties are called Brownfields. Many environmental justice communities are inundated with industrial facilities and the health hazards associated with them. When these industrial facilities are abandoned they leave a blot on the landscape that increases crime and decreases neighboring property values. Currently in the State of Illinois there is no mechanism for communities to be involved in decisions regarding the future use of these properties. Communities need a legislative process that requires they have substantial and meaningful involvement and consultation on how real property is used in their communities. Communities also want the opportunity to purchase properties at a reduced rate so they can utilize the land in ways that promote and improve community public health.
Petroleum Coke
In 2013, residents of southeast Chicago reported dust blowing through their neighborhood from large piles of petroleum coke (aka "pet coke") at storage facilities owned by KCBX Terminals, Inc. and Beemsterboer Slag Corp. Pet coke is a product of oil refining; it's a solid black carbon material resembling coal. The Southeast Side of Chicago is primarily Hispanic and African-American. The median income for Southeast Side families is $45,000 a year, and one-third of the families with children live below the poverty line. In response to community outcry the City of Chicago issued regulations to require existing petroleum coke facilities to enclose all of their storage piles within two years and take other measures to prevent dust from leaving the site. Community organizations like Southeast Environmental Task Force that pushed for an outright ban thought that the ordinance was inadequate to protect the residents of the Southeast side. In 2014 Governor Pat Quinn and Illinois Environmental Protection Agency sought statewide emergency petroleum coke restrictions to fully enclose petroleum coke storage facilities and take aggressive measures to control dust. The Illinois Pollution Control Board rejected the proposed emergency rules because there was a failure to prove there was imminent threat to public health and safety. With the absence of statewide protections communities across Illinois are vulnerable to the same impacts felt by Southeast side Chicago residents. Even worse without statewide protections new petroleum coke facilities will be sited without regulations in place. Environmental justice and environmental organizations request that Illinois Environmental Protection Agency pursue state rulemaking to ensure that communities across the state are protected from the negative health impacts associated with petroleum coke.