Happy Earth Day from IEC!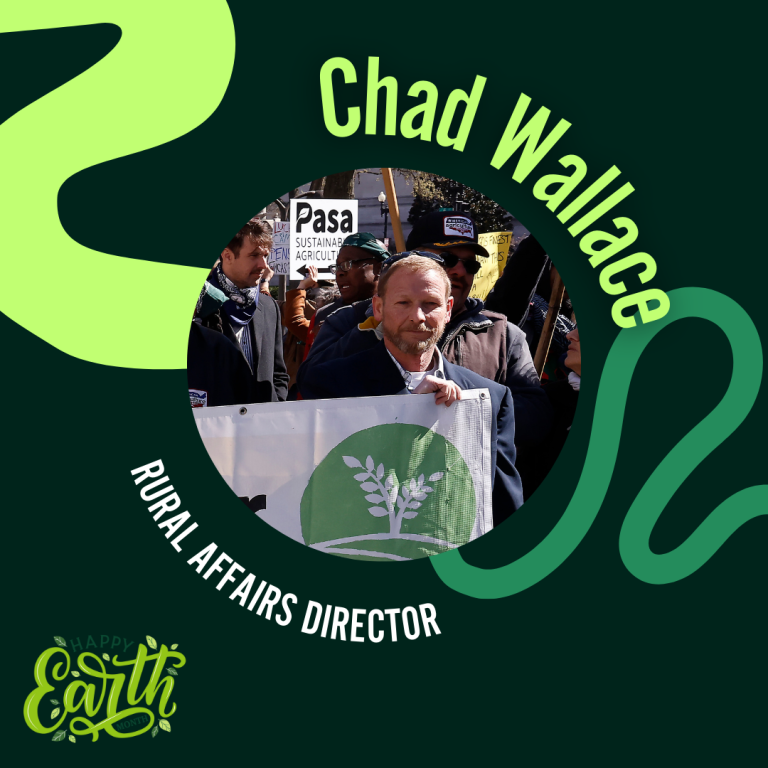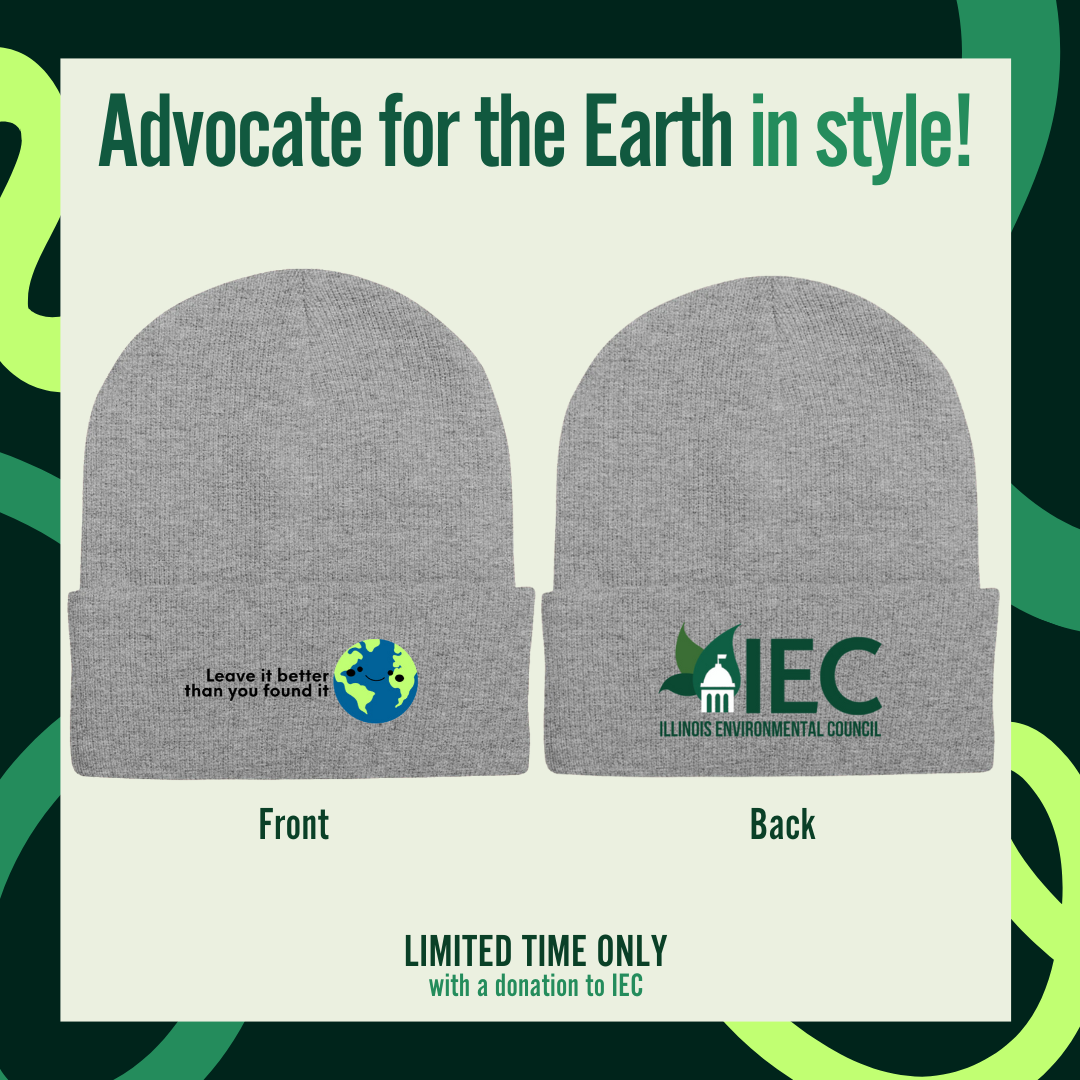 For just a few more days!
Illinois Farmers March on Washington
By Chad Wallace, Rural Affairs Director
Since our founding in 1975, IEC has developed a strong reputation and presence at the Illinois State Capitol. Over the years, we've grown to include work at the City of Chicago level, and most recently, we have strategically integrated federal-level advocacy into our body of work.
Just last month, I flew to Washington, D.C. with a diverse group of six other Illinois farmers from across our state and our partners at the Illinois Stewardship Alliance for the Farmers for Climate Action Rally for Resistance. It was an incredible and productive experience.
First on the itinerary was a welcome reception highlighting the experiences of Indigenous, Black, and female farmers across the United States. The speakers shared their personal stake in climate action, racial equity, and their call to care for our planet. Inspirational, to say the least!
There was everything we needed to make signs for our march to the White House. I saw some real winners, including "Racial Justice in the Farm Bill," "I Love Small Farmers," "Save our Soil," and "Ban CAFOs!" I also got a chance to meet the organizers of the event, who were dedicated and hard at work. We ended the first day with some serious discussion and planning for our lobby days ahead over an Ethiopian family-style meal.
Day two began at our hotel, the Washington Plaza, with a farmer meet-up. The Land Stewardship Project (MN), Chicago Food Policy Action Council, Kansas for Black Farmers, and our group, Farmers for Climate Action, participated. We shared stories of how climate change had affected our farms, businesses and how we were adapting. At this meeting, I connected with Matthew Sheets, Policy Organizer for The Land Stewardship Project. His state of Minnesota has one of the world's largest milk-producing CAFOs, so we plan to get together again soon to discuss various CAFO topics to inform my work at IEC. 
Next, it was off to the rally and march to the White House down Pennsylvania Ave. There were hundreds of people at the rally. A stage was set up where farmers told their stories. Tribal leaders had a ceremony to heal the earth as well. Here, I ran into the folks from Mississippi River Network, some of my favorite river people. We took in the scene and enjoyed performances by John Cougar Mellencamp and Willy Nelson. And since this was my first time participating in a march like this, I found it exciting and meaningful to be part of such an event.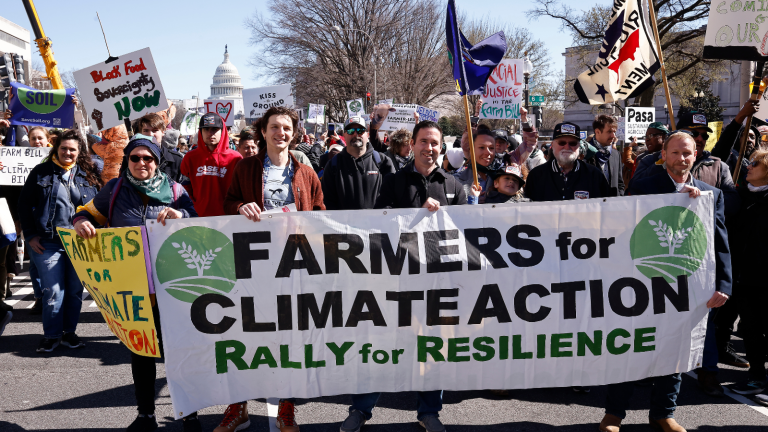 Immediately following the march, we headed over to our first lobbying appointment, a meeting with Senator Durbin's office. Sen. Durbin could not attend, but his staff was more than accommodating. Though we were scheduled for 30 minutes, our meeting lasted over an hour. They were more engaged than I expected because it felt like a conversation instead of just us talking and them listening. They seem to be aligned with the idea that Illinois needs serious infrastructure for smaller farming operations. This, of course, can be helped with the proper funding from the upcoming Farm Bill. Next, we met with Senator Tammy Duckworth's staff, and our conversation was similar to the previous meeting.
Day three was "power lobby day." We had a series of meetings with the staff of Reps. LaHood, Sorenson, Jackson, Davis, Budzinski, Underwood, and Quigley (who sponsors the ARA climate bill). Additionally, a couple of meetings stood out from that day: Rep. Marry Miller and Rep. Raja Krishnamoorthi. In our meeting with Rep. Miller, we discussed infrastructure and the need for a trained workforce. Her staff shared that they struggled to identify solutions and that my input was genuinely appreciated. I expressed that I was happy to assist; given my background as a farmer, I am familiar with the challenges and solutions that might help address them. While meeting with Rep. Krishnamoorthi, animal welfare was brought up, providing the perfect opportunity to surface the CAFO problem in Illinois and other states. To my surprise, he is very interested in working together on the significant issues CAFOs are causing our soil, water, economy, and food systems.
From new connections to my work and new farmer stories added to our new farmer story database to strengthened relationships with colleagues from around Illinois and other states, this trip was rewarding. And the lobbying and fast pace of D.C. was especially exciting. I have begun implementing things I learned, following up on leads, and building on the connections I made. In the meantime, I'm looking forward to my next D.C adventure!