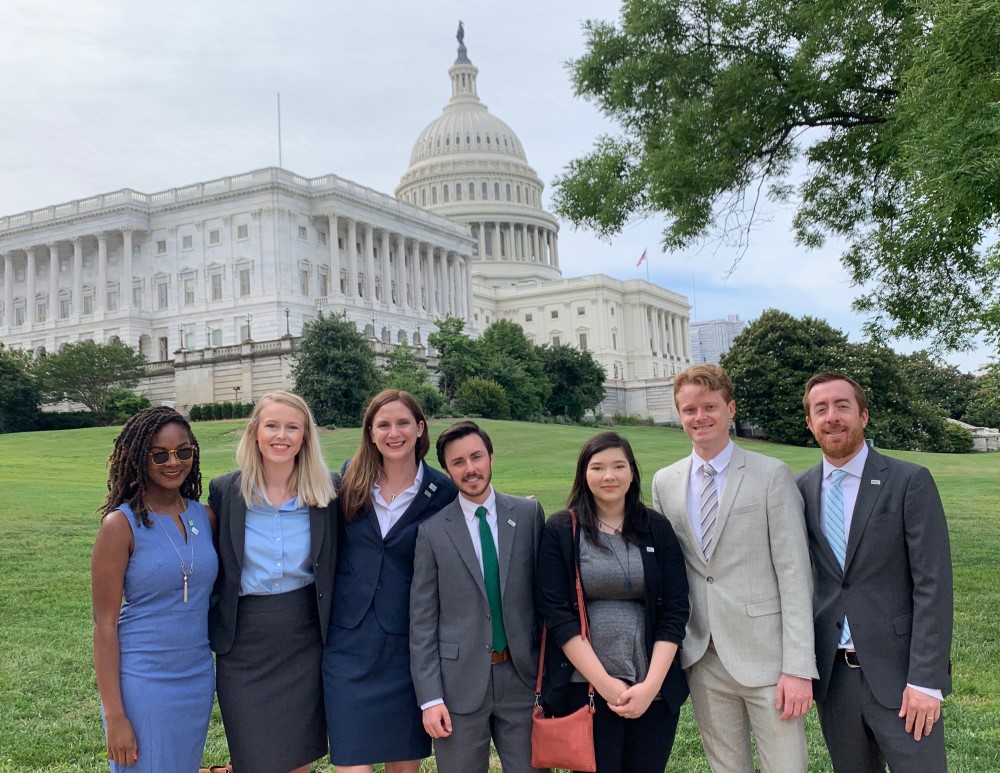 While a majority of our work at the Illinois Environmental Council is focused on passing and implementing environmental policies here in Illinois, we also engage with our state's congressional delegation to influence federal environmental priorities as well.
Recently, our team traveled to Washington D.C. where we met with congressional staff, several members of Congress and Senator Durbin as part of the national League of Conservation Voters (LCV) Lobby Day. LCV is a national organization which seeks to pass pro-environment policies at the state and national level. Check out our video recap of our day from the Capitol here!
IEC became the LCV state affiliate for Illinois in April 2018, which means we are plugged into a network of other state-level organizations fighting many of the same battles that we are fighting here in our state.
Our trip to D.C. provided me a great way to get to know my new(ish) colleagues, folks who I already admire for their years of work to protect Illinois' environment. For several of us, it was our first time lobbying on the Hill in a professional capacity. It was inspiring for all of us, both old and new. We also learned how many Illinois enviros (and their luggage) you can safely pile into one cab to save on emissions – I'll confidently say the answer is "more than you think."
We had a long, but exciting day of meetings on Capitol Hill. We met directly with Sen. Dick Durbin, Rep. Jan Schakowsky, Rep. Sean Casten, Rep. Bobby Rush, Rep. Rodney Davis and Rep. Raja Krishnamoorthi, as well as staffers for Sen. Tammy Duckworth, Rep. Danny Davis, Rep. Lauren Underwood, Rep. Bill Foster, Rep. Mike Quigley and Rep. Robin Kelly. As an unexpected surprise, we also got to meet Carole King (younger readers can click here to hear why it was awesome)!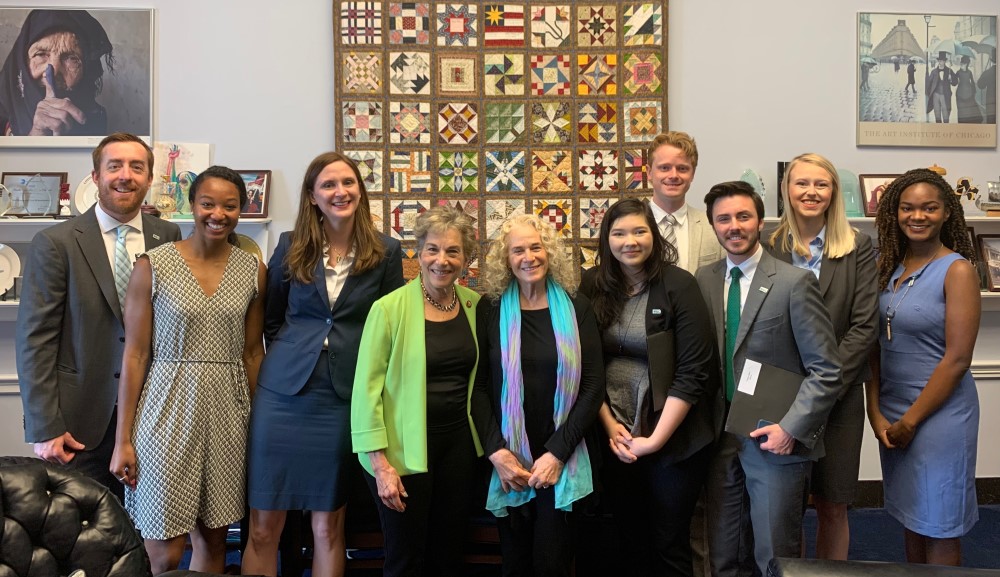 Rep. Bobby Rush even invited us to attend the House Energy Subcommittee meeting, which he chairs. During the meeting, he made a special announcement commending our work.
While we covered many topics, some of our primary national level requests included: signing a pledge committing to fighting for 100% clean energy sources by 2050, co-sponsoring a package of bills that restrict toxic PFAs (chemicals included in many household items) and full funding for the Land and Water Conservation Fund.
Many members were already aware of the problem that PFAs pose to human health and were responsive to our request that they cosponsor legislation tackling this proble. Additionally, we left every meeting with an expression of strong support for the Land and Water Conservation Fund, which needs a full $900 million in funding in order to be effective.
We were also happy to share the momentum behind clean energy in Illinois, specifically the Clean Energy Jobs Act, the repeal of the Kyoto Protocol Act and stopping an ALEC bill designed to intimidate Illinoisans from exercising their rights to free speech and assembly. 
Many of our congressional representatives were surprised to learn that clean energy jobs in Illinois have rapidly outpaced the number of jobs in the fossil fuel industry here, with roughly 30,000 people employed in fossil fuels compared to the 123,000 employed in clean energy jobs.
LCV National Lobby Day was a success and we were proud to represent all of our member organizations, and the Illinois environmental community as a whole, in our conversations with the delegation. We will continue building relationships with our federal lawmakers and serve as a resource for them on the ways in which their votes at the national level impact our health, our environment and our wildlife back here at home.