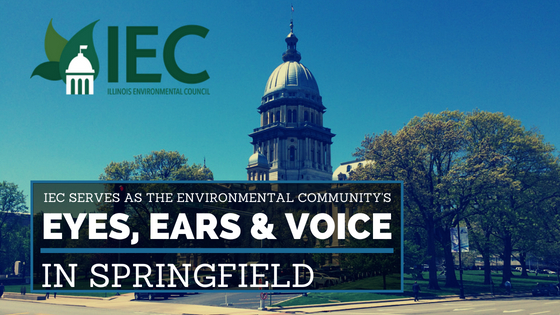 Who We Are
The Illinois Environmental Council Education Fund engages in education and outreach and provides a forum for environmentalists. The Illinois Environmental Council serves as the environmental community's eyes, ears and voice in Springfield. The two organizations – collectively known as IEC – work together to ensure a more healthful environment for Illinois residents.
Since its founding in 1975 by a group of dedicated grassroots environmentalists, IEC has sponsored issue advocacy campaigns and projects by allowing environmental organizations to pool their resources and create a higher profile for environmental issues. Today, IEC represents 80 environmental and community organizations and nearly 300 individuals from throughout Illinois.
What We Do
IEC promotes sound environmental laws and policies. We encourage decision-makers in the private sector to go beyond minimum standards to establish new environmental best practices. We credit those who lead, innovate, and inspire others to follow their example.
IEC supports environmental activists across the state and is building programs to cultivate the next generation of environmental leadership. IEC is working to establish stronger relationships among leaders in communities of color who are committed to environmental stewardship and sustainability. This approach reflects our values and will help the environmental community realize its goals.
Subscribers to IEC's EnviroBulletin receive regular updates from the Executive Director on the status of legislation or rules affecting the environment. IEC publishes annually a legislative briefing book that defines an environmental agenda reflecting our community's core concerns as well as an environmental scorecard that helps the public assess how legislators respond to IEC's recommendations.
Successes
IEC was intimately involved with the years-long campaign to pass the Illinois Clean Jobs bill and eventually, worked to include the much of the Clean Jobs bill in the Future Energy Jobs Act (FEJA). FEJA is set to make Illinois a national leader in reducing energy usage through efficiency programs, renewable energy generation, carbon reduction, and including historically marginalized communities in the clean energy economy.
IEC was also in large part responsible for passing the Preventing Lead in Drinking Water Act, which will protect Illinois school children from lead exposure by requiring that every school and day care center throughout the state tests their drinking water for lead.
The first major issue-based campaign IEC led was the Common Group, which brought farm interests, sportsmen and conservationists together in 1982 to present a soil conservation agenda to the Governor and General Assembly.
One of IEC's biggest success stories is the formation in 1994 of the Safer Pest Control Project, which continues to reduce the health risks and environmental impacts of pesticides and promote safer alternatives.
IEC helped rally a coalition of groups in 2002 to restore funding for open space acquisition. A little over a year later, IEC organized the Partners for Parks and Wildlife coalition to secure open space acquisition funding in the face of more proposed cuts under former Governor Rod Blagojevich.
IEC launched Mercury Free Illinois in 2005. Because of this campaign and efforts leading up to it, Illinois has cracked down on the sale and use of mercury in commercial, medical and school environments.
The Illinois Climate Action Network, established in 2008, is a coalition committed to helping end global climate change through legislative measures and citizen involvement throughout the state.
IEC gratefully acknowledges support from its sponsors, including these foundations:
Gaylord and Dorothy Donnelley Foundation
Grand Victoria Foundation
Joyce Foundation
Lumpkin Family Foundation
McKnight Foundation