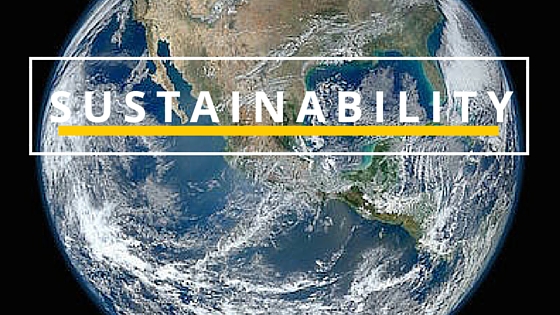 "The public policy of the State and the duty of each person is to provide and maintain a healthful environment for the benefit of this and future generations."
– Illinois Constitution, Article XI
T
he unintended social, environmental, and economic consequences of rapid population growth, economic growth, and consumption of our natural resources raises sustainability concerns, which is a simple principle: everything we need for our survival and well-being depends, either directly or indirectly, on our natural environment. When we think about sustainability, we consider how to create and maintain conditions under which humans and nature can exist in productive harmony, and how to ensure the social, economic, and environmental health of present and future generations. Sustainability takes into account advances in science and technology to protect human health and the environment, and promotes innovative green business practices. Some examples of sustainability in action include:
Leadership in Energy & Environmental Design (LEED) is a building certification program that recognizes best-in-class building strategies and practices. LEED-certified spaces use less energy and water resources, save money for families, businesses, and taxpayers, reduce carbon emissions, and create a healthier environment for residents, workers, and the larger community.
Illinois state government is at the forefront of sustainable building design. In 2014, the U.S. Green Building Council (USGBC) released the top ten states for LEED 2013 and Illinois topped the list at number one for the second year in a row. There are more than 1,000 LEED certified spaces in Illinois and more than 400 LEED certified projects in Chicago alone.
Green Communities provides grants, financing, tax-credit equity, and technical assistance to developers who meet the criteria for affordable housing that promotes health, conserves energy and natural resources, and provides easy access to jobs, schools and services.
Other green certification programs include:
USDA Organic – For farms or handling facilities that comply with USDA organic regulations;
USDA Biopreferred – For commercial or industrial products (other than food or feed) that are composed in whole, or in significant part, of biological products, renewable agricultural materials, or forestry materials;
Energy Star – For products that meet certain energy efficiency requirements;
Design for the Environment – For products that contain only ingredients meeting stringent criteria developed by EPA scientists;
WaterSense – For products and programs that save water without sacrificing performance or quality;
EPEAT – Specifically for computers and displays that meet comprehensive criteria for design, production, energy use, and recycling
However, not all certifications programs are created equal. Along with the recent surge of environmental awareness in the U.S., there has also been a well-documented rise in "green washing," or marketing claims that are false or misleading. It's important, therefore, to pay attention to standardized eco-labelling whenever possible. Look for products that have been certified by a qualified and independent third-party such as EcoLogo or Green Seal, both of which have developed standards for environmental leadership in an open, transparent consensus-based process that considers multiple environmental issues throughout a product's lifecycle (from resource extraction to end-of-life).
Current Sustainability Laws and Programs Illinois Sustainable Schools Compact. This program, launched in 2008, features best practices that K-12 schools can voluntarily pursue to achieve greater environmental sustainability, helping our communities and our state lead the way to a greener, cleaner future.

Illinois Green Ribbon Schools Award Program. Launched in 2012 by the Illinois State Board of Education, this program recognizes schools that lead the way to promote sustainability and environmental education. The program also allows Illinois schools to apply for the federal Green Ribbon Schools program through the U.S. Department of Education.

Current Laws, Rules, and Programs
Our Vision for Sustainability in Illinois
Illinois should lead the way in reducing the environmental footprint on government-owned properties.
Illinois has begun to address sustainability on state-owned properties, but has a long way to go. Sustainability measures can also benefit the state budget—for example, where state-owned entities decrease their energy usage or usage of supplies such as paper, these reductions can result in cost savings.
Illinois should remove barriers and incentivize sustainability for residents and businesses.
First, Illinois should work to remove any barriers that prevent sustainable design, including reduction of water and energy usage. For example, rainwater harvesting has long been in limbo in Illinois, with some "grey water" projects being disallowed. A next step would be to allow for incentives such as tax credits or low interest financing for these types of projects.