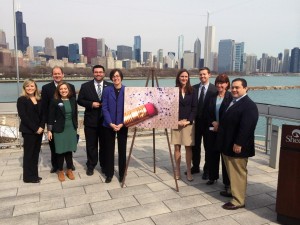 (Springfield, IL) Governor Quinn signed SB2727 on Sunday, June 8, making Illinois the first state in the nation to enact a law banning microbeads from personal care products.
"Congratulations to Governor Quinn for signing SB2727.  Illinois is the first state in the nation to enact a law banning microbeads and we are grateful to Governor Quinn for signing this legislation so quickly," said Jennifer Walling, executive director of the Illinois Environmental Council.  "It is great to see Illinois leading the way on laws that will help reduce plastic pollution in our Great Lakes."
Microbeads are small plastic beads that have become a popular ingredient in personal care products such as exfoliating body washes or types of hand soap.  Consumers can identify these products if the label lists polyethylene or polypropylene on the ingredients list.  These beads do not biodegrade and are being found in sediment in the Great Lakes.
State Senator Heather Steans and Representative Jaime Andrade led this legislation in their respective chambers.  The legislation will ban the manufacture for sale of these products in 2017 and ban acceptance for sale in 2018.  Over the counter drugs such as toothpastes or acne washes have an extra year to comply.  The Illinois Environmental Council worked on this legislation with the Chemical Industry Council of Illinois and the Personal Care Products Council.  Many manufacturers are phasing out this ingredient and replacing it with products such as apricot seeds, sand, and oatmeal.  New York and California have moved similar laws through chambers of their legislature.