UPDATE (6/2/2015): Governor Rauner and the Illinois Department of Transportation announced they will "remove the [Illiana Tollway] project from its current multi-year plan" and "begin the process of suspending all existing project contracts and procurements." Read more about the announcement in the Daily Herald.
Thank you for petitioning the Governor and other policymakers. Thanks to your efforts and those of IEC affiliates – the Environmental Law & Policy Center, Midewin Heritage Association, Openlands and the Sierra Club – Illinois taxpayer dollars will not be squandered on the Illiana boondogle and the Midewin Tallgrass Prairie will not be threatened.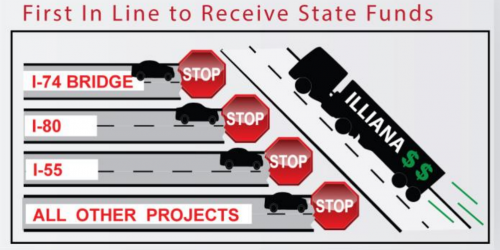 Boondogle sticks bill with taxpayers
UPDATE: On Wednesday, February 18th, Will County residents delivered 12,000 petitions to Governor Bruce Rauner's office urging the Governor, who has put the project on hold, to kill it permanently. Watch WGN-tv's coverage of the event.
The proposed Illiana Tollroad is a 47-mile road cutting through rural Will County into Indiana that comes with a price tag of $1.3 billion. IDOT estimates tolls to range form $11 to $37 and show that the tollroad would not attract enough users to pay for it, leaving taxpayers to foot a bill upwards of $1.1 billion. The project also threatens the Midewin National Tallgrass Prairie – the nation's first tallgrass prairie – and the largest piece of contiguous open space in northeastern Illinois.
Take action to stop the Illiana today!
The tollroad is also inconsistent with regional planning, will threaten heritage homes and farms in its path, and pollute the Kankakee River Watershed. For all these reasons, please take a moment and let Governor Rauner know the Illiana is wrong for Illinois taxpayers and will hurt the landscape of Will and Lake Counties. Take action through the Sierra Club HERE.