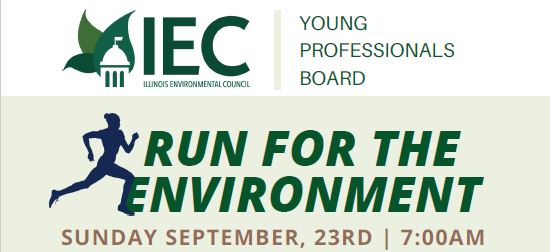 On Sunday, September 23rd, 2018, the Illinois Environmental Council Young Professionals Board will conduct its seventh annual Run for the Environment as part of the Chicago Half-Marathon and 5K. Currently, we're recruiting people just like you to run for a cleaner, greener future.
First, follow the directions below to sign up for the race and set up your fundraising page.  Don't think you can run a half-marathon? No problem – sign up for the 5K instead!
Second, start training for your race and getting your family, friends, and colleagues to donate in support of your run! We partnered with active.com to make donating easy.  All you have to do is send out the link to your personal donation page and we'll take care of the rest.  We'll even provide support for your fundraising and award prizes for our best fundraisers.  If you can raise over $500, we'll cover your race registration fee.
Third, let us know you're on the team! Email Christine at cdelpri at gmail.com so we know to count you in.
The money you'll raise will go to an incredibly important cause: the Illinois Environmental Council, which has served as the eyes, ears, and voice of the Illinois environmental community for over 40 years.  IEC's coalition of over eighty environmental organizations fought hard together this Spring to improve recycling and composting in Illinois, work for the Clean Jobs bill, and protect open space and wildlife.
The battles in Springfield to protect our air, water and land can't be won without garnering the collective power of the people who care about these issues. That's why we're calling on you to join us in our Run for the Environment – we need you to step to the plate and be an environmental leader!
We hope you'll join us!