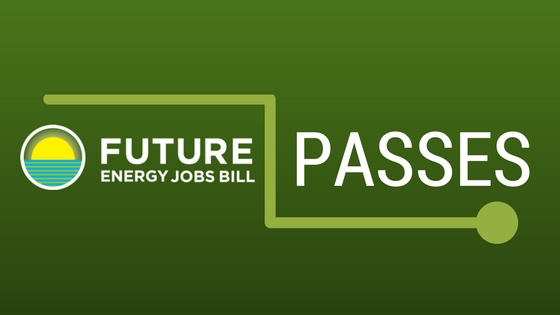 The Future Energy Jobs Bill was the most important climate bill in Illinois history, and the only major Climate bill happening anywhere in the country right now.
From day one, the Illinois Clean Jobs Coalition – of which IEC is a member – has been committed to the principles of creating thousands of jobs in every part of Illinois, saving consumers money on their bills and taking action to combat the threat of climate change. We are gratified that these goals are now within reach thanks to action taken by the Illinois General Assembly.
Passage of the Future Energy Jobs Bill is a victory for people in every community across Illinois who deserve more jobs, lower electric bills and healthier air to breathe. It is a victory for businesses in Illinois in the clean energy sector and across the economy—and a signal to companies across the nation that Illinois is fertile ground for growth in this field.
By fixing our state's broken Renewable Portfolio Standard and by building on our record of success in energy efficiency, Illinois will now be poised to become a leader in clean energy and to capture the jobs and investments that come with it. With this legislation in place, Illinois can now compete head-to-head with any other state in the nation in the race to build a sustainable clean energy economy– and win.
Key changes also included slimming down the overall cost of the bill, adding an overall rate cap, and removing some of the bills most controversial elements: the coal and gas plant subsidies and the "demand rates."
Benefits of the Future Energy Jobs bill include:
The clean energy provisions in this bill will lead to between $12 to $15 billion in additional private investment coming to Illinois and create tens of thousands of new jobs—making the Future Energy Jobs Bill one of the greatest economic development plans Illinois has seen in years.
Thanks to this bill, Illinois will one of the top energy efficiency programs in the entire nation, building on the success of 2007 energy efficiency programs that have led to more than 85,000 jobs across the state of Illinois. With this new bill in place, we will expand that number further.
It is big win for consumers. According to consumer analysis by CUB, due to the extraordinary benefits of the bill's energy efficiency programs, each customer in Illinois would see a $14.80 reduction on their electricity bill each year throughout the lifetime of the bill. And the bill now has an overall customer rate cap to ensure that rates will not go up more than 25 cents a month.
We are especially pleased that this bill will open up opportunities to people in low-income communities who too often have been shut out of participating in the clean energy economy. This bill will invest more than $750 million in low-income programs, including new Illinois Solar for All Program to prioritize new solar development and job training in economically disadvantaged communities. Specific programs will deliver consumer savings, economic development and job training and creation for ex-offenders and former foster children.