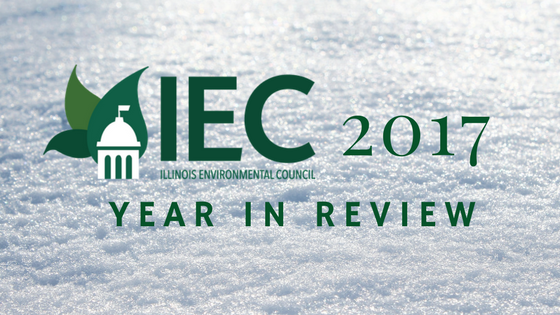 2017 was a big year for IEC
Our staff is growing! In addition to Deputy Director Matt Steffen who has been with IEC for four years, and Downstate Outreach Director Lindsay Keeney who has been with us for two years, we were very excited to welcome exceptionally qualified new staff members. Colleen Smith joined us in August as our legislative director after working as contract lobbyist and as chief of staff for Rep. Ann Williams. Melissa Bealon joined as our membership and development director just two weeks ago with extensive experience in association management.
Our small but mighty staff has been able to accomplish so much over the last year. In addition to legislative accomplishments, we've been working to educate the public on our issues. Towards this end, IEC staff:
Reached nearly 5,000 people at tabling events;
Hosted 10 town halls with lawmakers throughout Illinois on energy and environmental issues;
Sent 9 action alerts on issues ranging from Commerce Commission rulemakings to protecting environmental priorities in the budget, and;
With Illinois Stewardship Alliance, took nine legislators on site visits of sustainable farms.
Through this work, IEC has been making progress on important issues, including:
Combating climate change. We recently celebrated the 1 year anniversary of the Future Energy Jobs Act (or as we've been calling it, "FEJAversary"). The Environmental Defense Fund estimates that FEJA will reduce carbon emissions from Illinois's power sector by more than 50 percent from 2012 levels by 2030. The act will add 2700 megawatts (MW) of solar, 1300 MW of new wind, lead to a 20% reduction in energy usage through efficiency, attract billions in investments, and create tens of thousands of jobs for Illinois.
Reducing water pollution. IEC is working with our partner organizations to address the state's most significant water pollution issue by reducing nutrient pollution to our waterways. This year, we protected the budget for Soil and Water Conservation Districts, which wield the best local infrastructure to implement conservation practices. We also participated in a hearing on reducing water pollution from large livestock operations.
Safe, healthy drinking water. IEC led negotiations to craft and pass the Preventing Lead in Drinking Water Act, which requires lead testing at all schools and daycares. Through this testing, we can prevent lead exposure in Illinois's most vulnerable populations.
Conserving open space. With the land trust community, IEC worked to pass the Natural Areas Stewardship Act, which supports land stewardship at our most important state nature preserves.
Protection for pollinators and bobcats. In 2017, legislation passed that reduces the number of bobcats that can be hunted (although we support a full ban), and worked with the Illinois Sierra Club to list milkweed as the state wildflower and prohibit municipalities from banning milkweed, which provides essential food and egg-laying habitat for Monarch butterflies.
We will soon be releasing IEC's 2018 plans! While all signs indicate that environmental protections at the federal level will continue to be attacked for at least the next three years, we have real opportunities to make significant progress in Illinois. Working together, we can continue to create bold and innovative policies here in Illinois that inspire other states.
As President Obama remarked at the recent North American Climate Summit in Chicago, "Cities, states, businesses, universities, and nonprofits have emerged as the new face of American leadership on climate change." We agree, and would go a step further: our community is the face of leadership on all the issues that face our environment. Thank you for the inspiration and support you provide in these fights.