In an address to the General Assembly on February 15th, Governor Rauner unveiled his proposed FY18 budget, which relies on $4.6 billion of savings from unspecified reforms and cuts. We have outlined several important features of the proposed budget below.
It has been nearly three weeks since the Governor's address and Illinois still lacks a budget. The stop gap budget has expired and most state programs did not receive a full year of funding. Negotiations between Illinois Senate President John Cullerton and Minority Leader Christine Radogno to reach a "grand bargain", which would have included a budget as well as government and business reforms, have been hindered by the Governor's opposition.
A budget with sufficient revenue is important for the environment and conservation programs that we care about and is clearly important for the basic functioning of state government. It is likely little else will be accomplished in 2017 as each chamber attempts to focus on solving the impasse.
The Governor's proposed FY18 budget includes the following:
Consolidates energy and recycling programs at DCEO into the Illinois Environmental Protection Agency. Recycling programs have been cut despite funding available through the Solid Waste Management Fund. The role of DCEO in energy programs has been reduced by the recent energy bill to avoid the inconsistency of state programs relying on the state budget.
The Illinois Department of Public Health budget includes additional funding for lead abatement.
Maintains FY17 funding for Soil and Water Conservation Districts. Information in the FY18 budget shows the severe impact that the FY16 cuts and impasse had on this work, cutting conservation practices adopted by clients in half.
DNR has prioritized its multi-state efforts to conserve the monarch butterfly from its federally threatened or endangered species status.
Moves the Illinois Historic Pre¬¬servation Agency into the Illinois Department of Natural Resources. This merger is said to result in $9.2 million of funding for IDNR and $3.2 million in savings.
Money is appropriated to renewable energy from the Renewable Energy Resource Fund, which must be done to protect low income solar programs.
---
While many of our 2017 priorities hinge on a budget passing, IEC has already won a few notable legislative successes: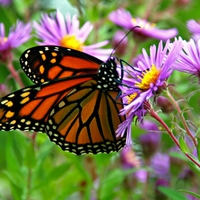 Protecting monarchs
– Rep. Anna Moeller passed HB685 out of the Illinois House! This bill is an initiative of the Monarch Team of the Illinois Sierra Club. It will prohibit municipalities from listing milkweed as a noxious weed. Such bans currently ban milkweed planting in over 20 communities in Illinois, despite it being a vital flower for monarch larva.
Recycling – Rep. Anthony DeLuca passed HB3014 out of Environment Committee! This bill will promote education about what not to put in your recycling bin. Household sharps, hazardous waste, yard waste, plastic bags, and Styrofoam do not belong in curbside recycling bins. These materials will contaminate your bin, making it harder and more expensive to recycle actual recyclables. This bill will make it a policy of the state to keep unlawful items out of curbside recycling bins.
Wrongful Tree Cutting – HB3286 passed out of committee! This effort, led by Rep. Kelly Cassidy, would fairly compensate owners of protected lands who have suffered damages from illegal logging.