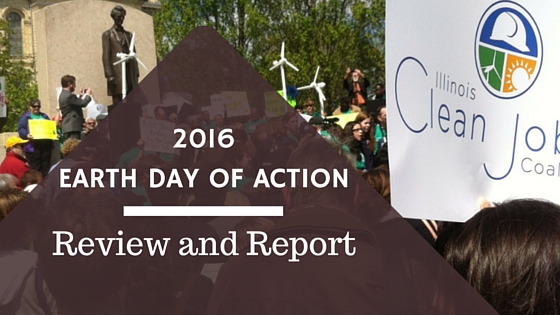 The Illinois Environmental Council, along with several affiliates and members of the Illinois Clean Jobs Coalition, hosted two advocacy days this year.
The first, which took place on April 7th, had over 40 participants who came the night before for a reception and training before spending the day in the capitol talking to legislators. We were fortunate in that we were the only big group at the capitol that day so nearly all of the participants were able to spend time with their legislators. The hard work of our attendees generated significant support for IEC's 2016 agenda, including the addition of several co-sponsors on pieces of priority legislation. Click here to see the full list of priority bills!
On April 21, the day before Earth Day, we held the 2016 Earth Day of Action and Climate Rally in front of the Capitol Building in Springfield. This is always a critical day for the environmental community's agenda in Springfield and this year was particularly important because of the clean energy and climate change issues being considered by state legislators – it was vital we turned out a big crowd.
And we were not disappointed! Nearly 500 people came to Springfield – nearly 200 more than we initially planned – to let legislators know that any energy bill coming out of the legislature must prioritized renewable sources (wind & solar), energy efficiency, and a carbon framework. Bus loads of climate champions rolled into Springfield from the Chicago Loop, several South Side locations, Schaumburg, Naperville, Alton, Oak Park, Waukegan, and Champaign. At our Climate Rally, we heard from wonderful speakers, including many of our legislative champions, like Senators Don Harmon, Dave Koehler, Daniel Biss, Melinda Bush and Representatives Elaine Nekritz, Emanuel Chris Welch, Mike Fortner, Silvana Tabares and Robert Martwick. Click here to check out photos and videos from the day!