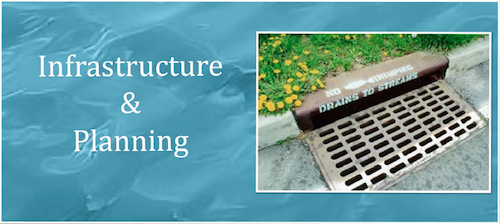 Illinois' abundant water resources face a number of challenges, including storm-water runoff, increasing residential, industrial and commercial use, and impacts from climate change.
Urban storm-water runoff is one of the major sources of impairment to Illinois' lakes and streams. Impervious surfaces (roads, rooftops) greatly increase the volume and velocity of storm-water runoff, which picks up pollutants that can degrade water quality if discharged untreated into lakes or streams.
Urban runoff pollutants include: sediment; oil, grease, and toxics from vehicles; pesticides and nutrients from lawns and gardens; viruses, bacteria, and nutrients from pet waste and septic systems; road salts; and heavy metals from roof shingles, motor vehicles, and other sources. In periods of rainfall or snow melt, the waste-water volume in a combined sewer system can exceed the capacity of the system; in which case, the system is designed to overflow and discharge excess waste-water directly to nearby streams, rivers, lakes, or estuaries. Polluted runoff and combined sewer overflows can harm people recreating on affected waterways, kill aquatic life and contaminate important sources of drinking water.
Illinois residents and businesses use a great deal of our water supply on a daily basis. Illinois industry, farms, businesses, and households use 21 billion gallons of water a day. Roughly 20 billion gallons a day are withdrawn from surface waters and another billion gallons per day are withdrawn from groundwater. Geographically, the overwhelming amount of water withdrawn is used in northern Illinois, where most of the population, business, and industry are located. Half of the water withdrawals in Illinois go towards thermoelectric power generation.
The challenges facing the state's water resources are further complicated by the impacts of climate change. As the climate continues to warm, precipitation patterns change and in recent decades, the number of extreme rainfall events has increased dramatically. These type of precipitation events lead to excessive runoff that transports pollution and contributes to localized flooding. Statewide, the annual number of precipitation events greater than 3 inches has increased by 83% over the last 50 years, and the amount of total precipitation during these events has increased by 100%. As the climate continues to warm, the number of days with rainfall greater than 1 inch is projected to increase up to 30% by mid-century.

W
hile more needs to be done to protect Illinois's water resources, there have been several legislative successes in protecting Illinois water so far:
Our Vision for Infrastructure and Planning in Illinois
I
llinois should engage in long term planning to protect water supply and quality that emphasizes water conservation.
Illinois should assign State Revolving Funds (SRF) to projects that result in decreased water usage, decreased discharges of water pollution, increased use of green infrastructure, and increased community resilience.
Learn More and Take Action
Illinois Integrated Water Quality Report, 2014
: Water Resource Assessment Information and List of Impaired Waters
Illinois Green Infrastructure Grant Program for Stormwater Management Biannual Report
More on
sewage overflows into the Great Lakes
by the Alliance for the Great Lakes.
Prairie Rivers Network on
preventing stormwater runoff.
Friends of the Chicago River
on threats to the Chicago River.
More on the
importance of stormwater management
by the Chicago Metropolitan Agency for Planning's (CMAP).