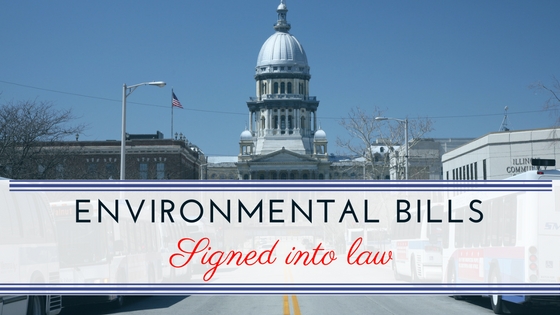 Once a bill passes both chambers of the General Assembly in Illinois, the final chamber to pass the bill has 30 days to transmit the bill to the Governor. The Governor then has 60 days to sign, veto or amendatorily veto the bill or it automatically becomes law. This means that most bills need to be signed by the Governor by August 29, 2016.
The following bills have already been signed:
Environmental Justice Commission – SB2920 adds more community representation to the Environmental Justice Commission. This bill was signed July 8 and becomes effective January 1, 2017.
Property Tax for Filter Strips – SB2160 extended an important property tax exemption to farmers for filter strips, which assist in reducing nutrient pollution to waterways. This bill is effective January 1, 2017.
Food Donation for Schools and Public Agencies – HB5530 was signed on July 15 and is immediately effective. This law prohibits schools and public agencies from signing contracts that restrict unused food from being donated to food pantries or soup kitchens. Read more about this bill here.
Food Cooperatives – HB5898 reworks the 100-year-old cooperative act to allow for new types of cooperatives, including an important business designation for grocery-type food cooperatives and local food sellers. This bill is effective immediately.
Local Food, Farms, and Jobs Council – HB5933 was signed July 28 and becomes effective January 1, 2017. This bill adjusts the size and purpose of the Local Food, Farms, and Jobs Council.
Alligator Gar Protection – While HJR141 does not need to be signed by the Governor to become law, it is getting lots of great press. Check out this article in the Chicago Tribune and view our recent fishing trip on the Chicago River with the resolution's sponsor, State Rep. Mike Zalewski, here.
There are a few bills that have not yet been signed:
SNAP incentives for Farmers Markets – HB6027 would increase benefits available to those that use SNAP (Supplemental Nutrition Assistance Program) funds at farmers markes.
Monarch License Plate Decals – HB6182 would create a license plate decal to fund monarch habitat.
Seed Libraries – SB3130 would exempt seed libraries from industrial seed laws.