Presentation of Lifetime Achievement Award to Majority Leader Barbara Flynn Currie by Al Grosboll, Environmental Law and Policy Center.
It is my honor and privilege tonight to introduce a person who for more than 3 decades has s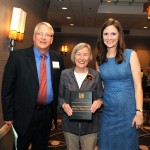 tood as a strong and consistent voice for Illinois' environment.
I consider her to be a friend, but I am not alone.
The organizations represented here tonight have all seen Barbara Flynn Currie as a good friend and as someone dedicated to creating a greener and safer environment for ourselves and our children.
Every Illinois citizen should also consider Barbara their friend because she has fought vigorously for cleaner air for us to breathe, purer water for us to drink, and more open space for us to enjoy.
Tonight, we are honoring Barbara Flynn Currie with the IEC Life Time Achievement Award. She is most deserving of this recognition.
But I believe it is appropriate to stop for a moment to acknowledge another person whom we should also recognize for life time achievement – and that is Barbara's late husband, Professor David Currie.
In 1970, Illinois Governor Richard Ogilvie turned to David and asked him to draft the Illinois Environmental Protection Act.
I was reminded of this a few years ago at another IEC annual dinner. The guest speaker that night made the point that the United States had been a leader in environmental protection and he noted that the US EPA was the first such organization in the world.
After the dinner, I talked to the speaker and complimented his good words, but I did suggest a correction in his speech. The Illinois EPA was actually created before the US EPA.
Illinois led on this front and we have David Currie to thank for his both his commitment to the environment and his legal drafting skills.
In addition, Governor Ogilvie asked David Currie to serve as the first Chair of the Illinois Pollution Control Board.
So, Barbara, I want to ask our audience to give David a belated round of applause for his work.
Barbara Flynn Currie was first elected to the Illinois House of Representatives in 1978. From the very beginning, she made it clear that protecting, preserving and enhancing our Illinois environment would be a high priority to her.
In her first term, she began to focus her attention on protecting citizens from the misuse of pesticides.
When forces tried to stop the state's first official bike trail, The Rock Island Trail, Barbara was a strong voice in Conference Committee to include funds in the Conservation Appropriation.
She sponsored legislation to provide more funds for urban parks. She sponsored legislation to help finance SO2 removal equipment. And that was just in her first year in the legislature.
As a first year legislator, Barbara had a 100% environmental voting record and won a Best Environmental Legislator Award.
In the years since, Barbara has had one of the most consistent Environmental voting records of any member of the legislature. She has scored 100% more time than I have time to recite this evening.
Barbara Flynn Currie has also shown a commitment to issues that transcend political party lines.
One reason I told Jen Walling I would be pleased to introduce Barbara to you tonight is because it affords me the opportunity to thank Leader Currie publicly for her work to improve public school funding.
In 1997, Governor Edgar embarked on a very difficult mission to reform the state's school funding formula and increase overall state support.
Needless to say, this was a challenging endeavor. Eventually, legislation emerged that restructured the formula to guarantee adequate funding for every school child in every school district in Illinois.
Even though this was proposed by a Republican governor, Barbara Flynn Currie stepped up to lead on this effort.
In an extraordinary move, Barbara became the floor leader for passing Governor Edgar's Education bill.
After months of hard work and negotiations, the funding reform bill passed. It created the concept of the Foundation Level and added $600 million to the state's education budget – the single largest increase in school funding in state history. Thanks to Barbara.
Over the years, Barbara's interests have included pesticide management, wetlands protection, solid waste reduction, supporting Nature Preserves, and Hazardous Waste regulation.
And by the way, did I mention that along the way, Barbara became the Majority Leader of the Illinois House – a position to which she has brought great dignity and much hard work.
Her strengths are a keen intellect, great analytic skills and the guts to go head-to-head with anyone, democrat or republican, downstate or upstate, male or female to fight for a good cause.
She has fought to stop bad ideas and to fund good programs to protect public safety, improve quality of life and enhance our environment. Barbara has also been one of the strongest supporters of energy efficiency and renewable energy programs.
When the legislature embarked on a historic negotiation to regulate hydraulic fracturing, Barbara ensured that environmental leaders here tonight were at the table with a voice equal to industry's voice.
In recent years, Barbara was essential in helping conservation leaders break the log jam that blocked legislation to fix the state's Recreational Liability Law. This was very frustrating but Barbara never gave up and helped achieve this important victory.
Everyone in this room has a story of how Barbara has helped them on an important issue.
We all appreciate her pro-environment votes and vocal support of smart green policies, but she does far more for us than vote with us.
Her greatest gift to us is her honesty. Before this evening event, I spoke to many in this room about our honored guest and everyone agreed on a point about Barbara.
Whenever, we are struggling with an issue, whenever we don't quite know what is going on, and whenever we hit a brick wall, we all look at each other      and we say,        "Let's go see Barbara."
And when we do, we know that her door will be open; we know that no matter how busy she is, Barbara will make time for us; and we know that she will offer her help and wisdom.
But when we see Barbara, we don't always get soothing words. More often, she tells us we have not worked hard enough. She tells us we have weak arguments. She tells us we must find middle ground.
It is not like visiting our mother after a bad day of school, and we don't get milk and cookies just for trying hard.
No, Barbara bluntly tells us to do our jobs better. And sometimes that is exactly what we need to hear.
Democracy is not easy. The process involves hundreds of personalities with shall we say "well-nourished egos." With so many competing interests and so much at stake, we need friends who will tell us the truth.
Through Barbara's encouragement and advice, every one of us has worked harder, presented stronger cases and done a better job.
Together, we have created an environment in which people breathe cleaner air and drink purer water. The truth is that because of Barbara Flynn Currie, Illinois is safer and healthier for our children and grandchildren.
Barbara, thank you for your 36 years of support; thank you for all you have done to improve our environment; and thank you for your honesty.
Ladies and gentlemen, our Life Time Achievement Award recipient – Barbara Flynn Currie.