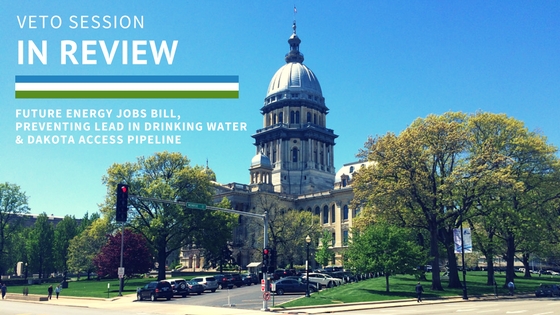 On Wednesday, December 7th, Governor Rauner signed the Future Energy Jobs bill, which marks the most significant win for clean energy, energy efficiency and climate action in Illinois history, and makes the state a national leader in those areas. While the Governor attended two bill signings Quad Cities and Clinton, the Illinois Clean Jobs Coalition held its own press conference in Chicago. View pictures of these events here.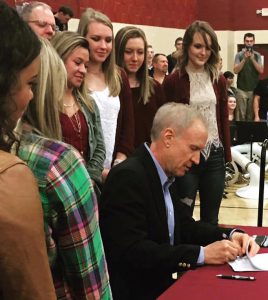 Here's what our allies and the media are saying about the bill:
"The Future Energy Jobs bill will boost renewable energy and energy efficiency and invest in low income communities. It will lead to $12 to $15 billion in NEW private investment and create tens of thousands of new jobs right here in Illinois. Energy efficiency measures in the bill will not only create economic growth throughout Illinois, but will also save consumers money and keep rates low." – IEC Executive Director Jen Walling in the Southern Illinoisan.
"Approximately 70% of the funds from the overall legislation will focus on kick starting clean energy, which dwarfs the dollars going to aid the two nuclear plants, and will help chart the path toward a clean, modern energy economy for decades to come—bringing tens of thousands of new jobs, billions in private investments, cleaner air and needed savings on monthly electricity bills, statewide." – Nick Magrisso on NRDC's blog.
"Combined with the ongoing impact of market changes on the fossil fuel industry, this means Illinois will reduce its carbon emissions by more than 50 percent from 2012 levels by 2030." – Andrew Barbeau on Environmental Defense Fund's blog.
"A huge part of the story of this bill is the key role played by low-income and environmental-justice advocates, from places like the Little Village Environmental Justice Organization. Thanks to their efforts, the bill will invest more than $750 million in programs for low-income communities (down slightly from a previous version of the bill). One, called "Illinois Solar for All," will help low-income customers, nonprofits, and community centers access rooftop solar and community solar. Others will provide solar job training programs." – Illinois passes huge, bi-partisan energy bill, proves democracy still works via Vox.
Read more details about the changes to the RPS and the benefits to solar with this fact sheet from ELPC.
---
Lead in Drinking Water
The Preventing Lead in Drinking Water Act passed unanimously out of the House Environment committee with an agreement that it would be held on second reading until stakeholders find areas of agreement on several remaining issues. This bill requires testing drinking water in schools for lead and inventorying lead service lines so that we can protect our children's health. Read more about this bill here.
---
Dakota Access Pipeline Resolution
IEC co-hosted a press conference with State Representative Kelly Cassidy and members of Illinois Native American communities to introduce HR1508, which supports the Standing Rock Sioux Tribe's opposition to construction of the Dakota Access Pipeline (DAPL) across the Tribe's ancestral lands, waters, and sacred sites. You can watch news coverage of the event and resolution here.
And more good news – with the passage of SB1367, SNAP recipients can now receive twice the support for purchasing local food at farmer's markets in Illinois. Read the bill here. Thanks to Illinois Stewardship Alliance for their work on this bill!