Nineteen Legislators Receive 100% Rating on the Illinois Environmental Council's 2013 Environmental Scorecard
(Springfield) The Illinois Environmental Council released its 2013 Environmental Scorecard today.  Nineteen legislators received a 100% voting record.
Representative John Bradley (D-Marion)
Representative Kelly Cassidy (D-Chicago)
Representative Barbara Flynn Currie (D-Chicago)
Representative Sara Feigenholtz (D-Chicago)
Representative Laura Fine (D-Glenview)
Representative Robyn Gabel (D-Evanston)
Representative Greg Harris (D-Chicago)
Representative Elizabeth Hernandez (D-Cicero)
Representative Naomi Jakobsson (D- Urbana)
Representative Emily McAsey (D-Lockport)
Representative Christian Mitchell (D-Chicago)
Representative Elaine Nekritz (D-Northbrook)
Representative Art Turner (D-Chicago)
Representative Ann Williams (D-Chicago)
Representative Michael Zalewski (D-Riverside)
Senator Daniel Biss (D-Evanston)
Senator Steven Landek (D- Burbank)
Senator Pat McGuire (D-Joliet)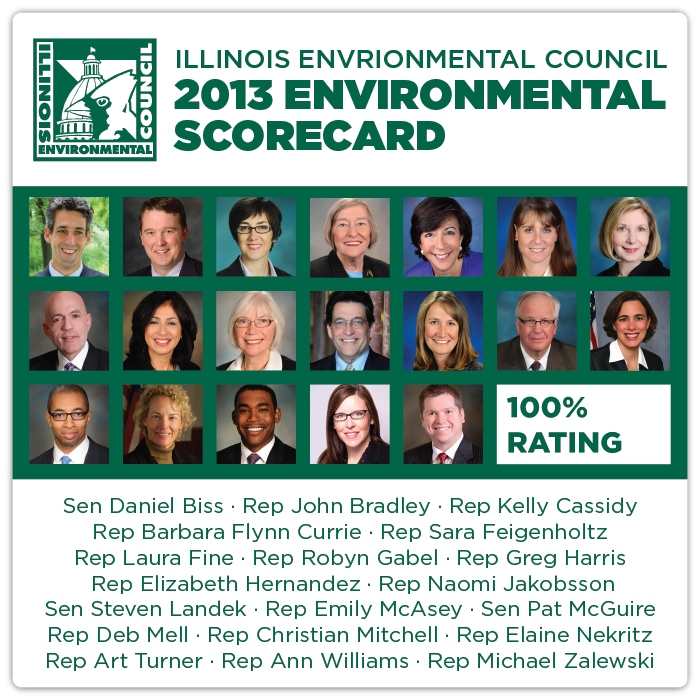 The 2013 Environmental Scorecard included eight individual legislative measures.  Bills on the 2013 Environmental Scorecard include:
Restoration of recreation liability exemptions (SB1042) that protect landowners in the state who open their private land to the public for recreation purposes, which passed the Illinois General Assembly unanimously after seven years of negotiation.  This new law will provide the public with new opportunities to enjoy nature and protect private landowners.
New laws that will help municipalities encourage and fund green storm water infrastructure.  (HB1522 and SB1869).  Green Infrastructure for storm water protects property from flooding while conserving water and protecting water quality.
Expansion of composting programs to urban and suburban farms (HB2335).  Compost programs at new urban farms will provide a beneficial soil amendment to these growers.
Passage of the most comprehensive hydraulic fracturing legislation in the nation (SB1715).
"Congratulations to the nineteen legislators who received a 100% environmental voting record in 2013," said Jen Walling, executive director of the Illinois Environmental Council.  "We are pleased to have so many champions in the Illinois legislator with a pro-environment voting record."
IEC releases its scorecard following the conclusion of regularly scheduled legislative session.
-30-
The Illinois Environmental Council (IEC) is a non-partisan 38 year-old organization that promotes sound environmental laws and policies, provides a forum for environmentalists and facilitates a statewide activist network. IEC performs legislative advocacy and serves as the environmental community's eyes, ears and voice in Springfield.